Printmaking artist Brandon Gardner, who is also an assistant professor of art at the U. of Alabama, will visit USC-B this month. Gardner will lead a studio lecture and printmaking demonstration at the USCB Art Studio on Carteret Street Tuesday March 18 from 10am-2pm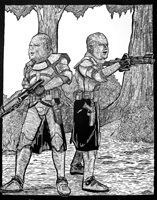 An exhibition of Gardner's prints— some four feet tall— will also be on display at the Arts Council of Beaufort's gallery. The exhibit is entitled "The Super Secret Society of Hope's Battle for America, in Real Time: A Politically Inspired Show of Woodcuts." An opening reception will be held the same night, from 5:30-8pm. The exhibit will remain on display until April 5th. Both events are free and open to the public.
Brandon Gardner was born and raised outside of Bloomington, Indiana. He attended the University of Southern Indiana and graduated in 2000 with a Bachelor of Science degree. His graduate studies were completed at Texas Tech University when he received his Master of Fine Arts degree in Printmaking in 2003.

Brandon now teaches Printmaking and 2-D Design at the University of Alabama in Huntsville. He has been very active in the Printmaking field, as he has founded Mad Cracker Press and co-founded the Bastards of Printmaking Society; a group of printmakers working together to exhibit their work, explore the possibilities of print and share information. Brandon was also invited to participate in Colorprint USA, one of the most highly recognized print exhibitions. More recently, he collaborated with Cannonball Press to create a 20 meter-long snake for the Oppikoppi Music Festival in Johannesburg, South Africa. Over the past year, Brandon has shown his work nationally and internationally, organized and exhibited an exchange folio, and has been invited to participate in three more print exchanges for the coming year.