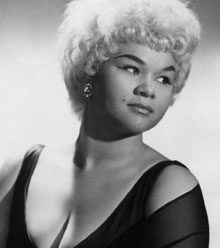 After Hurricane Matthew forced a postponement last fall, the USCB Center for the Arts is delighted to finally host the much-anticipated musical tribute to the legendary three time Grammy winner Etta James on Saturday, January 21 at 7:30 pm and Sunday, January 22, at 3 pm. Dr. Marlena Smalls, world renowned singer, entertainer, educator and actress, will perform many of James' hits including her signature hit, "At Last."
Marlena will perform other James classic tunes such as: "All I Could Do Is Cry," "Something Has a Hold on Me," and "Don't Loose Your Good Thing." She'll be backed up by local favorites Velma Polk and Elaine Lake, who are known for their phenomenal harmonies. The Lowcountry Jazz Band, under the direction of David Hershey, will provide the big band sound to make this tribute – featuring 14 James song – a "don't miss" performance.  
A member of both the Rock and Roll Hall of the Fame and the Blues Hall of Fame, Ms. James was not easy to pigeonhole. She was a soul pioneer who had her share of hard times and emerged a survivor. She is most often referred to as a rhythm and blues singer, and that is how she made her name in the 1950s with records like "Good Rockin' Daddy." James was discovered in her mid-teens, and her raw talent influenced the likes of Janis Joplin and Bonnie Raitt.
Tickets are on sale now. Purchase them online at www.uscbcenterforteharts.com or call the Box Office at 843-521-4145. Ticket prices: Adults $25, Senior/ Military $20, Students $15.