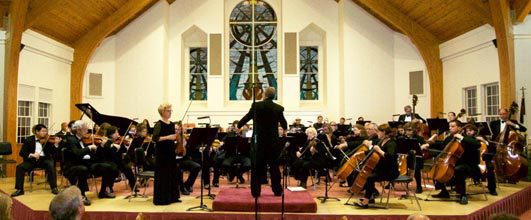 Beaufort Symphony Orchestra will feature two of the greatest composers of all time, Haydn and Beethoven, in "Symphonic Showcase" to usher in its 2015-2016 season and begin a year-long celebration of its 30th anniversary.
         Maestro Frederick Devyatkin has created a delightful repertoire of programs to celebrate the orchestra's 30th anniversary, beginning with "Symphonic Showcase" on Oct. 22 and 25.  "Winter Wonderland" on Dec. 17 and 20 will feature the Maestro as soloist in Bach's Concerto in A for Violin and include a delightful montage of festive holiday music.   Guest artist Tamas Kocsis will once again delight audiences in "Romantic Virtuosi" on Feb. 25 and 28, with Paganini's Concerto No. 1 in D, Opus 6, and with the orchestra in Mendelssohn's Symphony No. 3, "Scottish."  The spring concert will host the Savannah quintet Velvet Caravan in a salute to Django Reinhardt, "Slavic Swing" on May 12 and 15.
         A very special fifth concert will showcase the adult orchestra and the 50-member Beaufort Symphony Youth Orchestra together on stage in a "Side by Side Gala" on April 10 at Beaufort High School Performing Arts Center.  To hear more about these outstanding concerts watch a video of musical director and conductor Fred Devyatkin on the orchestra's website at www.beaufortorchestra.org .  You can also order your season tickets or individual concert tickets on the site, or call 1-800-595-4849. 
            All concerts with the exception of the "Side by Side Gala" will be held at Sea Island Presbyterian Church on Lady's Island. Thursday concerts are at 7:30 p.m. and Sunday concerts are at 4:00 p.m. A map with directions is also on the website.  Adult tickets are $40 and students are $15 at the door.
         Concerts are funded in part by the SC Arts Commission which receives support from the National Endowment for the Arts.