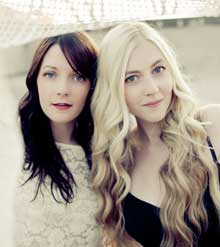 The sensational Canadian duo Dala is coming to the Fripp Friends of Music stage March 24th, with a vibrant acoustic pop music performance that's not to be missed!
Dala's Sheila and Amanda are darlings of the Canadian music scene, nominated time and again for Best Folk Group, and having won the country's Folk Music Award for Vocal Group of the Year 2010. Dala has released five albums and toured extensively across North America, and the group is now poised to wrap-up the 29th Fripp Friends of Music season with a delightful concert, artfully combining folk classics with the group's own original, fresh songs—right here in the Lowcountry!
Influenced by The Beatles, Joni Mitchell, Neil Young and Bob Dylan, Dala's songs are catchy and insightful. The pair performs with a virtuosity and infectious joy that instantaneously turns first-time listeners into life-long fans! Amanda's ethereal soprano voice perfectly complements Sheila's velvety alto, resulting in their stock-in-trade lush harmonies. The duo is equally entertaining between songs, with a seemingly endless repertoire of amusing, captivating tales that contribute to the uniqueness of their heart-warming "brand" of entertainment.
Dala's critically acclaimed 2009 album, Everyone Is Someone, earned them their fifth Canadian Folk Music Award nomination for Best Folk Group. Their song Horses was nominated by US National Public Radio as one of its Top Ten Folk Songs of 2009.
In 2010, Dala's PBS special, Girls From The North Country, was broadcast across North America. This remarkable concert featured Dala's own songs woven around classics by Joni Mitchell, Neil Young, Bob Dylan and Gordon Lightfoot. Girls captured Vocal Group of the Year for Dala. Their latest album, Best Day was released last June.
No strangers to the American festival scene, they have performed at the famed New Orleans Jazz Festival, California's Mariposa Center for the Arts and the Strawberry Music Festival in Yosemite National Park. In 2009, Dala was the only Canadian act invited to perform at the 50th Anniversary of the prestigious Newport Folk Festival!
As if further confirmation of "star" quality beyond what's obvious to our own ears were necessary, Dala has opened for artists such as Tom Cochrane, Richie Havens and Arlo Guthrie!
Make no mistake, a Dala concert is SO special, you'll want to be able to tell your children and children's children, that you not only saw and heard Dala IN PERSON, but you chatted with them at the post-performance reception! Where else is that possible but at Fripp Friends of Music?
Dala will perform March 24th at 5 pm at the Fripp Island Community Center 205 Tarpon Blvd. Tickets at the door: Adults $25 per person/$10 for students. All attendees receive an entry pass at the Fripp Gate and are invited to join the artists at an included catered event following the performance.
Information 843-838-6655. www.islc.net/friendsofmusic/