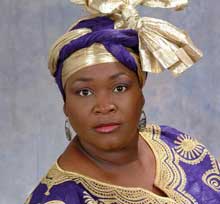 Aunt Pearlie Sue and The Gullah Kinfolk will appear in a public performance of their original musical, The Gullah Journey From Africa to America…the Circle Unbroken, Saturday, November 9 at 6 p.m. at the Unitarian Universalist Fellowship of Beaufort, 178 Sams Point Road, Lady's Island. Reservations are required and may be made by calling toll free: 1-866-726-9346. Seating is limited. There is no admission charge, but a love offering will be welcome at the door.
Aunt Pearlie Sue is the creation of award-winning storyteller and singer, Anita Singleton-Prather, a retired teacher and ordained minister. The character is based on Singleton-Prather's grandmother and has entertained audiences with Gullah-flavored folktales for more than 20 years.
Singleton-Prather has performed at the Beaufort Gullah Festival, Penn Heritage Days Festival, the Woodlands Festival and at Spoleto USA. Her original movie, My Man Done Wrong, has been a part of the film festival circuit to include the Jamerican Film Festival in Kingston, Jamaica and the Black Hollywood and San Francisco Film Festivals in California. She has appeared in the film Forrest Gump and on the Food Network Channel Holiday special, Christmas Across America, hosted by Rachel Ray.
In addition to her participation in many SCETV documentaries, Prather's one-woman show, Tales from the Land of Gullah, has been broadcast nationwide on PBS.
The Gullah Kinfolk is composed of singers, musicians and storytellers who perform educational programs in the Gullah tradition. The group appeared at the Children's Museum of Houston last December and has performed many times for schoolchildren and adults in Beaufort and elsewhere.
Singleton-Prather hopes the concert will raise money to support her group's goals of raising awareness of the history and traditions of the Gullah people and for educational and enrichment programs for youth in the City of Beaufort.
"GOD is faithful even in the midst of our worry and doubt. We celebrate Him through our performances. Our music and story-telling reflect the strength and spirit of the Gullah people who endured through times that test the soul," she said.
A portion of concert proceeds will benefit the social justice projects of the UUFB. Reverend Nan White said her church is delighted to sponsor the concert. "Unitarian Universalism has a legacy of support for worthwhile organizations such as The Gullah Kinfolk. We hope the enthusiasm generated by the Heritage Festival at Penn Center will help draw a large crowd of people to this vibrant and moving theatrical concert," she said.
For more information about UUFB, visit uubeaufort.blog.com. For more information about The Gullah Kinfolk and Anita Singleton-Prather, visit auntpearliesue.com.