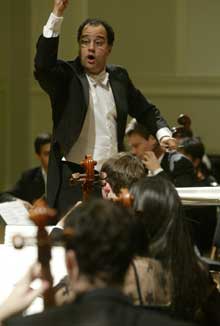 Ten years after making its Lowcountry debut, the Duke Symphony Orchestra will return March 23 to perform in the downtown Beaufort venue where they presented their first three concerts.
            The much-anticipated annual event—a fundraiser for Beaufort Memorial Hospital Foundation—will take place in USCB's Center for the Arts. For the last six years, the concert had been presented in the Arts Center at Beaufort High School.
            "We've brought it back to the Historic District," said Beaufort Memorial Hospital Foundation Executive Director Alice Moss. "The post-concert reception will be held just a few blocks
away in one of Beaufort's most beautiful historic homes."
            The reception—open to concert-goers who purchase patron tickets—is being hosted by Elizabeth Locke and her husband John Staelin, who recently purchased the 1859 Joseph Johnson House, also known as "The Castle." The Old Point residence was featured in the 1999 film "Forces of Nature," starring Sandra Bullock and Ben Affleck, and served as the setting for the novel "Sea Island Lady."
            Led by Duke Symphony Orchestra Director Harry Davidson, the student ensemble will present a repertoire of 18th to 20th century symphonic classical works. As a special treat, the USCB University Chorus will join them to perform the piece, "Vois Sur Ton Chemin."
            "This is a wonderful opportunity for our students," said Vic Varner, USCB music instructor and chorus director. "How often do you get to have a 50-piece orchestra backing you up?"
The Duke Symphony concert was first presented in 2004 to raise money for the Keyserling Cancer Center's healing arts program.
"We planned this as a one-time event, just as the cancer center was opening," Moss said. "But the students from Duke enjoyed it so much, they wanted to return the following year. We were happy to keep hosting them and enjoying their music."
During the whirlwind weekend visit, the young musicians stay in the homes of area residents. They have a chance to visit the historic downtown and attend the post-concert party.
"These are bright kids who come from all over the world to study at Duke," said Charley Webb, a perennial volunteer host. "It's been a lot of fun having them in our home."
A former principal with Kinghorn Insurance of Beaufort, Webb persuaded his associates to underwrite the first Duke concert. The agency continues to serve as a key sponsor today.
In recognition of their longtime support, the Foundation chose Webb and his wife Martha Lynn as honorary chairs of this year's event.
"We thoroughly enjoy coming down to Beaufort to perform for the community," said Duke's Davidson. "Everyone is so welcoming."
            General admission tickets to the Duke Symphony Orchestra concert are $35. Patron tickets start at $75 and include premium seating and the conductor's reception. (Tickets are $5 higher at the door.) To purchase tickets, visit www.bmhsc.org or call (843) 522-5774.