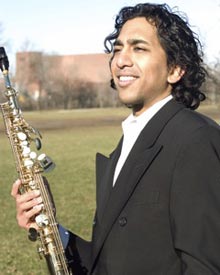 Attention concertgoers! Fripp Friends of Music's upcoming concert, featuring the sensational concert saxophonist, Ashu, is guaranteed to dispel February's chill and warm your hearts; even NPR said Ashu had "pizzazz to burn!"
            Ashu is a phenomenally talented and highly-trained musician who started at the top and has continued to scale ever higher musical peaks. He made his recital debut at 16 in New York's Carnegie Hall, went on to perform the world over, thrilling audiences everywhere, accumulating medals and awards from a succession of international competition victories.
            A native Californian, Ashu had rigorous classical training, earning his Bachelor and Master of Music degrees from Northwestern University under the renowned saxophone virtuoso, Frederick Hemke. But Ashu surpasses being a supremely skilled musician.
            His accumulation of major international awards is much more than just a measure of his musical excellence, it's an acknowledgement of uncommon virtuosity, as he has succeeded in competitions traditionally dominated by pianists and violinists! Ashu is changing that monopoly. More importantly, he has attracted a large, diverse global following of intensely loyal fans—real people who thoroughly enjoy his performances. He's a virtuoso AND a showman who connects with his audiences every place he goes.
            His journey to the Lowcountry has lately been via prominent concert halls throughout Russia, South Africa, Great Britain, the Baltics, New Zealand, Southern Europe, Central Asia, Canada and the USA. Other recent solo tours have taken him to the vibrant urban music centers of Vienna, Lisbon and Munich as well as halls in France, Switzerland, Norway and the French West Indies. Despite a growing demand from major orchestras worldwide, Ashu recently has played recital engagements for enthusiastic American audiences at the Ravinia Festival, Kravis Center, La Jolla Music Society, Dumbarton Oaks, Rockefeller Series, Santa Fe Concert Association Series and in New York's Central Park.
            Not long ago, Ashu won the prestigious "Audience Prize" at the International Musical Olympus Festival in St. Petersburg, Russia. To claim this coveted award, Ashu impressed an "audience" of judges that included artists at the very pinnacle of music's "Mount Olympus," such as famed cellist Yo-Yo Ma, La Scala Music Director Claudio Abbado, the celebrated pianist and conductor Daniel Barenboim and Valery Gergiev, internationally acclaimed Russian conductor and opera company director.
            The Pulitzer Prize-winning composer Christopher Rouse described Ashu as "…a really sensational musician." After one performance, the German daily newspaper, Der Tagespeigel, marveled that "…the American Ashu thrilled the jam-packed hall…" Such accolades aren't just because of the impossibly rich, awesome sound he coaxes from his alto sax, nor the brilliant, romantic, intense lyrical expressiveness of his sense for the composer's emotional intent. No, it's so much more: Ashu beguiles, captivates, enthralls and mesmerizes his audience!
            Ashu fills his music with his bold, colorful personality—plus perpetual motion. "A human mobile," one music critic insisted. As Ashu's music flows into the concert hall, his physical presence seems to expand to occupy the entire stage!
            An ordinarily reserved critic declared Ashu "…just as much fun to watch as to listen to." (Dallas Morning News)
            Treat yourself to an early spring this year. Make an entry in your day planner: Sunday, February 22, 2015, 5 pm at the Fripp Island Community Centre to see and hear Ashu's riveting performance. Have your driver's license handy when you cross the Fripp bridge from Route 21; you'll get a free car pass at the gate. Tickets at the door, $25; students $10 (cash or personal check, please). Fripp's "Island of Music" begins with a violin duet by Elizabeth Henderson and Olivia Ward of the Beaufort Youth Orchestra as you're being seated. After Ashu's high-energy performance, your enjoyment continues, because your admission includes a complimentary post-concert reception featuring delectable hors d'oeuvres by Harold's Catering and a unique opportunity to enjoy stimulating conversation with Ashu and fellow music enthusiasts in delightful surroundings.