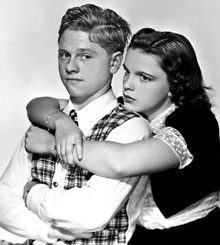 "Hey, let's put on a show! We can put a stage in that old barn out back, and surely it won't be too hard to rig up a spotlight or two…"
This movie motif became a cultural cliché thanks to young film stars Mickey Rooney and Judy Garland. (If you're too young to remember them or their impact on pop culture, think Brad and Angelina.) They were the "it" couple of Hollywood in the 1930's and 40's, and made putting on a "spontaneous" performance, with lavish costumes and Broadway production values, into a common storyline for an abundance of movie musicals. Today, this trope is frustrating to those in the performing arts, such as the Hilton Head Island Choral Society – especially when they explain just how long it
really
takes and how much it costs to
"just put on a show."
The Choral Society will present its spring concert, "Notes from a Small Island," on Friday, April 1st – not in an old barn, but at the island's foremost music venue, the First Presbyterian Church. This, and other Choral Society performances, are traditionally presented to sold-out crowds, who enjoy the live performance, probably without giving much thought to the hours upon hours it takes to accomplish such a feat. In fact, the man-hours of work necessary to produce such a concert are daunting, according to modern day rivals of Rooney and Garland, Glenn and Linda Neff. As Co-Presidents of the Choral Society, the husband and wife team estimates that "120 singers rehearse more than 6,240 man-hours each season, and that's just the tip of the iceberg." That's not counting the further hours of rehearsals with an orchestra that accompanies the chorus at every performance. Then, there are crews that move and install risers in the church, people who organize ticket sales online and on the phone, those who sell sponsorships, someone who writes and pursues grants, and much more. "The behind-the-scenes work is done totally and tirelessly by our singers and volunteers," says Linda Neff. As for the cost of putting on a concert, "Less than half of our expenses are covered by ticket sales," she adds. There are many expenses of which most people aren't aware. For example, the music must be purchased at a cost that includes a fee, or license, to perform the songs in public. Once purchased, it has to be stored, and since the Choral Society has been performing for more than 40 years, that's a lot of music – and there's a cost associated with its storage and upkeep. In addition, there is the cost of publicity, printing tickets and programs, and all the typical expenses that would be associated with running a business. No one is getting rich from these performances, but they provide a special richness to the community that is priceless.
Above and beyond the plethora of time and unobserved expense, there are many hours of work that the couple do preparing for each performance. "When the songs for performance are chosen, we create more than 120 individually numbered binders. The music gets spread out on our dining room table and throughout our house. There are no sit-down meals or dinner guests for several days, before and after, each performance," says Glenn Neff. He also points out that the Mickey Rooney and Judy Garland reference is actually pretty accurate, especially when it comes to newer choral members who are taken aback by the amount of work and energy that we ask of all our members. "They accept it and dive in with enthusiasm." He reminds them of the words of a conductor who once told them; "In five years from now, you won't remember what songs you sang, who wrote them, or how you performed them… but you will always remember the experience!"
For Linda, the experience is worth every minute of toil, and is a labor of love. "To be together each week, with like-minded people who love to sing together, is truly amazing. That's what it's all about.
            The Hilton Head Choral Society's concert, "Notes from a Small Island," is Friday, April 1st at 8 pm. All seating is reserved, and tickets sell quickly. They are available at www.HiltonHeadChoralSociety.org or by calling 843-341-3818.