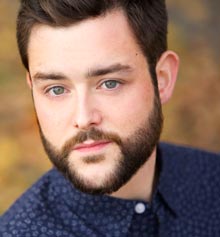 USCB Center for the Arts is proud to be hosting Joshua Carswell, a vocalist that brings along with him an incredible take on the Great American Songbook, to the main stage on Sunday, October 18th, 2015 at 3:00 pm. A winner of the esteemed American Traditions Competition, held annually in Savannah Georgia, Joshua Carswell is a frequent performer of commercial music, musical theatre and opera.
His love of music spans genres, providing audiences with a dynamic 'ride' through American classics. Reimagined sounds of old country hits, jazz standards, musical theatre classics and old spirituals are woven into a powerful performance not to be missed.
            A native of North Carolina, Joshua Carswell began his love affair with music in the church, at the early age of three. Continuing his study on the collegiate level, Mr. Carswell is a graduate of Elon University with a B.A. in Vocal Performance where he was also the recipient of the university's prestigious Presser Music Scholar award. He has been a featured soloist in both Carnegie Hall's Isaac Stern Auditorium and on the Grand Ole' Opry.
            Though this is Joshua's first performance on the Center for the Arts stage, he will not be arriving to the Lowcountry a stranger. Beaufort resident Anna Powell Schaffer, a frequent performer with the Beaufort Theatre Company, is proud to be hosting Carswell and his band for the weekend. "We met officially in college, the very first day of move-in," adds Schaffer, "directly across the hall in our freshman dorm 'Virginia,' and as members of the Performing Arts Learning Community, I naturally assumed, we'd have something in common." Throughout the semester the pieces started to fall together: "We had been a part of the same children's theatre, performed in fine arts competitions together through our schools, and competed the same weekends at National Association of Teachers of Singer's competitions throughout North Carolina."
            "He's incredible," notes Schaffer. "I remember sitting through the first 'departmental' when I shifted into Vocal Performance, and hearing him for the first time, and knowing he had what it would take to thrive in the world of performance. His sincerity, clarity and presence are really something to take in, and I am thrilled the Lowcountry will get the chance to experience his unending talent this fall!"
            There's only one opportunity to experience Joshua Carswell in concert: Sunday, October 18th, 2015 at 3:00 pm. University of South Carolina Beaufort Center for the Arts, 801 Carteret Street, Beaufort, SC 29902. Tickets are available online: www.uscbcenterforthearts.com or through the box office (843-521-4145). This performance is proudly sponsored by Lowcountry Music Studio, LLC.