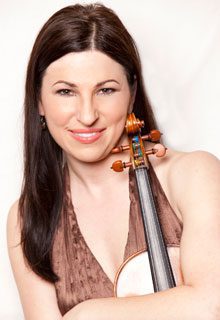 The first concert of USCB Chamber Music's 40th anniversary season takes place on Sunday, November 3, 5:00pm. It features music of youth, maturity, melancholy, intimacy, passion, introspection, delicacy, and exuberance.
The concert begins with the 15-year-old Franz Schubert's Piano Trio in One Movement in B-flat Major, D.28, his first work for this combination. Its profusion of melodies create a charming, entertaining romp, revealing a prodigious talent that makes up in unbridled spirit what it lacks in accumulated wisdom.
Of the generation following Antonín Dvořák, Bohuslav Martinů is widely regarded as one of the most significant Czech composers of the twentieth century. His two movement Duo No. 1 for Violin and Cello, H.157 was composed in 1927. The opening Praeludium is quietly contemplative while the brilliant second movement is a spirited rondo, suffused with folk-like elan.
When writing for violin and piano, composers usually try to minimize their differences. Maurice Ravel took a different approach: "In the writing of the Sonata for Violin and Piano, two fundamentally incompatible instruments, I assumed the task, far from bringing their differences into equilibrium, of emphasizing their irreconcilability through their independence." They often seem to be commenting on one another rather than engaging in conversation. Written late in life, the work contains many impressionistic moments but also draws from a career's worth of influences, including jazz. Movement two, "Blues," utilizes prominent 1920s melodic figures. The concert concludes with Antonín Dvořák's Piano Trio in e minor, Opus 90. Dvořák was raised in the classics and became an international sensation, but his heart and soul remained with the music of his native land. This trio, nicknamed "Dumky," is a set of six Ukrainian dumkas. Each is a based on the alteration of two strongly contrasting passages, either wistful melancholy or pulsing rhythm. The dynamic tension between them creates one of Dvořák's most profound artistic utterances.
Three artists well known to this series will bring the music to life. Pianist Andrew Armstrong has been praised by critics for his passionate expression and dazzling technique in concerts across Asia, Europe, Latin America, Canada, and the United States. He has performed an enormous repertoire, including more than 50 concertos with orchestra, solo recitals, and chamber music of all types. Violinist Amy Schwartz Moretti is almost a neighbor, serving as the Director of the McDuffie Center for Strings at Mercer University in Macon, GA. Her musical career has demonstrated high accomplishment and broad versatility, including multiple concertmaster positions, solo recitals, and chamber music performances across the country. Artistic Director, host, and cellist Edward Arron is a fixture at these concerts. His intense musicianship, personal warmth, extensive knowledge of repertoire, and savvy programming have made him a sought-after collaborator both as performer and administrator. He has served as artistic director of the Metropolitan Museum concert series in New York, appeared as a recitalist, as a soloist with major orchestras, and as a chamber musician throughout North America, Europe, and Asia. Apparently assuming that sleep is a waste of time, he recently joined the full-time faculty at the University of Massachusetts Amherst.
Support the Arts! The only way to fully experience the energy in the room is to be part of the concert; add your presence as a listener. Concerts usually end with a standing ovation in recognition of beautiful music, brilliantly performed. Concert information and tickets, as well as information about the newly launched Endowment, are available on www.uscb.edu/chambermusic or at 843-208-8246, Monday through Friday. The USCB Center for the Arts, located at 801 Carteret Street, opens at 4:15pm on the day of the concert, Sunday, November 3.