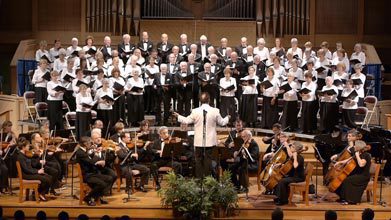 The Hilton Head Choral Society is welcoming spring in the Lowcountry with "Music from The Stage" at 8 pm on Friday, March 21 at First Presbyterian Church, 540 William Hilton Parkway, Hilton Head Island.
HHCS Artistic Director Tim Reynolds has changed the traditional Masterworks Concert format to one that highlights opera and Broadway theater selections with music from iconic Broadway composers like George Gershwin and "West Side Story's" Leonard Bernstein to classical composers Giuseppi Verdi and Pietro Mascagni.
The HHCS will be accompanied by orchestra throughout the concert. The audience will hear classics like "Summertime" from "Porgy and Bess," and a tribute to the legendary Broadway composer Richard Rodgers featuring music from "The Sound of Music," "South Pacific" and "Oklahoma." A medley of tunes from shows by Sir Andrew Lloyd Webber including "Evita," "Cats" and "Phantom of the Opera," concludes the evening.
"This concert promises to be an impressive display of familiar songs from the stage performed in a grand choral style," says Tim Reynolds, HHCS Artistic Director.
The concert will also feature the premiere of a newly commissioned piece by Broadway composer, Georgia Stitt, entitled "Do Not Stand at My Grave." This moving piece was commissioned in memory of Sarah Creech, daughter of the group's accompanist, Janice Creech, who passed away suddenly from an acute asthma attack in February 2012.
Concert tickets are $30 for preferred seating (available on-line only) and $25 for general admission. Tickets may be ordered on line at www.hiltonheadchoralsociety.org or purchased at these local businesses: Burke's Main Street Pharmacy, Hilton Head Plantation, Hilton Head Island; Pretty Papers & Gifts, Wexford Plaza, Hilton Head Island; Christie's Hallmark, Festival Centre, Hilton Head Island; Christie's Hallmark, Belfair Town Plaza, Bluffton; Markel's Gifts, Kitties Crossing, Bluffton.
Tickets may also be purchased at the door the night of the concert. For more details, call 843-341-3818.