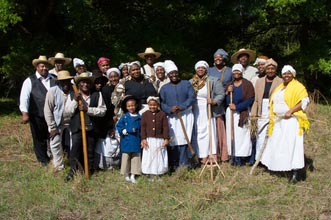 A Celebration of Gospel & Jazz in the Lowcountry 
 On June 5th, a very special musical event comes to the USCB Center for the Arts at 7 pm. "Local Talent" is the key phrase for this high energy, fast moving, roof-raising extravaganza of authentic Lowcountry Gospel and Jazz.
It's the same music you'll hear in Baptist and African-Methodist-Episcopal churches from Savannah to Beaufort, with a definite and distinct Gullah influence, or in The Jazz Corner, Ruby Lees and other nightspots. Producers Terry Herron & Scott Gibbs have signed up the best singers & musicians from Beaufort to Savannah, and created something very special. This concert starts with a tapestry of Gospel sounds that soothe the soul and rocks the senses, followed by popular Jazz vocals and styles from the 60's Be-Bop era when Nancy Wilson, Sarah Vaughn, Miles Davis, Oscar Peterson and other greats created entirely new Jazz sounds.
Scott Gibbs, our own Beaufort-born "maestro" of Gullah and Gospel music, has recruited thirty singers from the Fellowship Concert Choir, the St. Paul Adult Baptist Church Choir and the Gullah Kinfolk from the Beaufort Islands. This magnificent ensemble will present their own brand of local church sounds, along with a Ring Shout version of the song "Fisherman Peter," featuring Pearlie Chaplin.
Add to this the two most exciting and best known vocalists in the Lowcountry, performing their big Gospel hits with exquisite backing from the big Choir. Huxsie Scott is Savannah's 'Queen of Jazz,' and a most-sought-after lead singer for major Gospel events. Huxsie is a featured artist each year at the Savannah Jazz Festival, and star performer with the Savannah Theatre. Huxsie will perform the Jazz classic hit "Comin' Home Baby" recently recorded by Michael Buble and written by Savannah's own Jazz Bass legend, Ben Tucker. She has Terry Herron, show producer, as her duet partner, singing part of the song in a Mel Torme style. Her other songs will include "Lady With a Song," "Dollar Green" and "I Can Go to God in Prayer".  
Priscilla Williams, a 10th Generation Gullah-born native of Beaufort (the Albergottie family), is an accomplished Gospel and Jazz singer who will join Music Director Rick Radcliff at the Piano for a few of her own solo performances. Her song list will include "Sweeping Through the City "I Love the Lord," Jazz classics "Skylark" and the Duke Ellington classic "I'm Beginning to see the Light." Priscilla is the featured soloist with Savannah Jazz Orchestra.
Local Jazz & Blues songstress Jan Spencer chimes into the Jazz segment of the show with the classic "Ain't Misbehavin'," "When Sunny gets Blue" and the Blues Classic "You Got Me Running."
Jacksonville born Greg Whittaker, our most in-demand Saxophone Jazz & Gospel impresario, will bring his sweet, sexy, soothing sounds to the show, providing musical ambience for the singers, and some historical narrative that threads the musical relationships between Gospel and Jazz.
Bringing up the rear (musically) is Teddy Adams, a local Jazz Legend on Trombone, known as the founder of both the Savannah Jazz Festival and Savannah Jazz Orchestra. Teddy has mentored hundreds of singers and musicians, raised thousands for charities, and partnered with Ben Tucker 33 years ago to re-vitalize Jazz in Savannah and the Lowcountry.
Do not miss out on seeing all of this musical talent on stage on Friday, June 5th at 7 pm. Ticket on sale now. Adults $25 – $15, Students $15 – $10. Tickets available online www.uscbcenterforthearts.com or the box office 843-521-4145.