Beaufort Performing Arts is excited to present The Bobs, on Saturday, May 2, at 8 PM at the University of South Carolina Beaufort Performing Arts Center.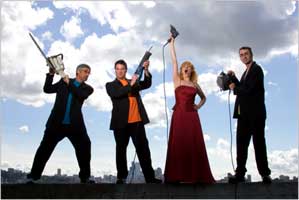 The Bobs are a four member a capella group, known for their incredible live show, witty tuneful original material, and outrageous covers of classic songs. Pulse Magazine calls this "the Beatles of the a cappella world," while the Miami Herald describes them as "a marriage of Barenaked Ladies and Manhattan Transfer… truly off the beaten path."
The Bobs- Richard Green, Matthew Bob Stull, Amy Bob Engelhardt, and Dan Bob Schumacher – are four dynamic personalities who put on a show that is part theatre, part comedy, part performance art, but most of all a unique evening of music. " A band without instruments," The Bobs just their voices and body percussion to fill the theatre with an orchestra of harmonious sound, accompanying themselves on songs that range from soulful to satire, from amazing to moving, from familiar to unimaginable. Together since 1981, they have sold out venues around the world, released twelve albums, been nominated for a Grammy and appeared on network television, scored movies, produced commercials, been the musical commentators on National Public Radio, and built themselves a legion of adoring fans.
The Sharktones, an exciting new addition to the USCB music department this year, will be opening for The Bobs. This group is composed of USCB students and community members who have an interest in increasing their vocal ensemble skills. Comprised of about 20 members this ensemble has enjoyed the direction of Vic Varner, who is also the chorus teacher at Beaufort High School. The group has been focusing on vocal jazz, while honing the ear training skills necessary to be an excellent performing ensemble. Although intended to be a growing presence at the USCB campus, the group is still open to additional members from the community at large through audition.
Tickets are on sale now at the USCB Performing Arts Center. Ticket prices are $40-35-30 and half price for children 12 years old and younger. Box Office: (843) 521-4145 Monday-Friday 10:00AM to 5:00PM. USCB is located in the heart of downtown Beaufort at 801 Carteret Street.