Beaufort Harbormasters Will Sing to Your Sweetie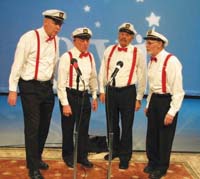 For many years now, the Beaufort Harbormasters have evoked sweeter memories of Valentine's day by delivering singing valentine greetings together with a box of chocolates to a Valentine sweetie's home, classroom or office.
The Harbormasters, the local chapter of the Barbershop Harmony Society provide quartets singing songs like "Let me call you sweetheart" along with the chocolates. The Beaufort Harbormasters who perform at civic and charitable functions throughout the year, team up with the "Chocolate Tree" each February in a joint effort to perform this popular service. Pat Green, the owner of the Chocolate Tree confirms that this joint partnership grows more popular every year.
"Singing Valentine's" are delivered to most points in Northern Beaufort County for $60. A surcharge may be applied for more remote parts.
For ordering and delivery on Thursday 14th Feb 2008 call Pat Green at 524-7980 or for info call Brian Chinn at 846-6038.