Amazing musicians will be playing traditional favorites and new compositions during the five concerts of the 2007-2008 USC Beaufort Festival Series with Mr. Chamber Music himself, Charles Wadsworth, playing and hosting. Just a few droppable names – Erika Nickrenz, Todd Palmer, Wendy Chen, Chee Yun, and the Miro Quartet will be playing pieces by Bach, Mozart, Brahms, Enescu, Dvorak, Stravinsky, and Bizet.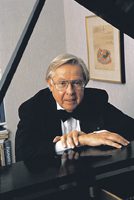 All the artists are young, but when you consider their talents were recognized early and many have been studying and performing since their primary years, they are not inexperienced. They have performed with the likes of Joshua Bell, Carter Brey, Yo-Yo Ma, and Andre Previn at Kennedy Center, Lincoln Center, Carnegie Hall and concert halls and music festivals throughout Asia, Europe and the Americas.
Edward Arron will bring his considerable talents honed as Artistic Director of the Metropolitan Museum of Arts' chamber series to the USCB Festival as Associate Artistic Director. The March 2 concert will feature an original composition by Kenji Bunch, who has been heralded as a composer to watch by the NY Times. Mr. Bunch will play the viola in the grand premier performance of this piece.
All performances are at the Beaufort Performing Arts Center on Carteret Street on Sunday at 5 p.m. Subscriptions are available for five-concert season tickets or for individual performances. For more information on seating and reservations, please contact the Beaufort Visitor Center,
1-800-638-3525 or 1-843-986-5400.
Series Schedule:
October 21, 2007 – Gilles Vonsattel, Toby Appel, Todd Palmer & Edward Arron
December 2, 2007 – Jeremy Denk, Soovin Kim, & Edward Arron
February 3, 2008 – Wendy Chen, Chee-Yun & Edward Arron
March 11, 2007 – Erika Nickrenz, Jesse Mills, Kenji Bunch & Edward Arron
April 29, 2007 – Miró Quartet and Edward Arron