Some enchanted evening … you may hear some music … across a crowded room … and somehow you'll know … it's The Lowcountry Chorale … in concert!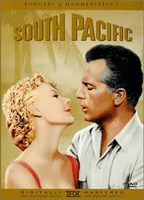 Enchantingly, the evening in question is, Friday, April 25 at 7:30 (plus Saturday afternoon, April 26 at 4:00).
The crowded room (it is hoped) is the sanctuary of St. John's Lutheran Church, Lady's Island (SC 802 – Lady's Island Drive) where you are welcome to listen … free of charge.
And all that music that you'll very likely know is themed "Some Enchanted Evening," a concert collage of favorite Broadway and motion picture tunes, including: "Some Enchanted Evening" (what else!!) from South Pacific; an Andrew Lloyd Weber medley from Jesus Christ Super Star, Evita, Cats, Phantom of the Opera, Starlight Express and others; Gershwin's "Embraceable You" from Girl Crazy; Carousel's "June Is Bustin' Out All Over," "Clambake" and "You'll Never Walk Alone"; "Luck Be A Lady Tonight" from Guys and Dolls; the theme from New York, New York; "Chattanooga Choo-Choo" from Sun Valley Serenade; "I Only Have Eyes for You" from Dames, and many more, including a special Chorale ensemble rendition of choral highlights from the Tony award winning Wicked currently on Broadway.
The singers are the 40-plus voices of the Lowcountry Chorale now in their 11th year of bringing outstanding choral music to Beaufort County. The Chorale's twice annual concerts range from challenging examples of classical music to everyone's everyday popular favorites like those listed here.
Past Lowcountry Chorale concerts have included such unlikely combinations of composer genius that blended Mozart, Mendelssohn and Mickey Mouse (themes from Walt Disney movies). Others have stressed patriotic themes or totally secular music.
Winter concerts usually reflect seasonal music, combining a variety of ethnic, folk and religious traditions, with selections as well known as Handel's Hallelujah Chorus, African chants and music of Hebrew origin.
Testing its mettle, the Chorale has sung in Latin, German, French, Hebrew, Swahili and African-American dialects to mention a few.
Directing the ensemble for his second season with the Chorale is Cliff Kosier, also renowned as director of the Harbormasters, Beaufort's popular barbershop chorus and as minister of music at Grace Community Church of Hilton Head Island.
"Music is my passion," said Kosier, "and nothing is more satisfying to me than helping a group of talented persons transform personal energy into a well crafted, disciplined presentation of great melodies."
Gloria Bockelman, pianist at St. John's Lutheran Church, accompanies the Chorale on piano and organ. "Though I'm a bit of a squared away 'techie' during the day, taking part in a musical ensemble provides a wonderful outlet for my creative side," declared Bockelman with a wry chuckle.
Chorale singers, men and women, young and not so young, volunteer their services 24 weeks a year for rehearsals and performances. Though formal rehearsals are scheduled but once a week, all singers are required to practice on their own between.
twice-a-year scheduled concerts, the Chorale singers also appear at various community venues. In recent seasons they've sung for the Marines at Parris Island and at the Port Royal Christmas Live Nativity.
Membership in the Chorale is open to all who enjoy choral music; no audition is required. Twice yearly dues of $30 toward expenses are waived for students and hardship. The Chorale rehearses at St. John's Lutheran Church at 6:45 – 9:00 PM Tuesdays.
Director Kosier, a Tennessee native and ordained minister, earned a Master of Music degree in conducting and musical performance from the University of Tennessee and is currently seeking a PhD degree in Worship through Northern Seminary with the International Conservatory of Worship in Florida. He and wife Lisa, a music teacher at Hilton Head Island Elementary School, are the parents of two daughters.
Accompanist Bockelman, an Ohio native, has an Associate Degree in Electronic Engineering Technology from the University of Toledo and is proprietor of Trivas Technical services in Beaufort, a computer aided design and technical manual writing service. She and husband Tim, a physical conditioning advisor at Parris Island Recruit Training Depot, are the parents of a son and daughter.
Chorale singers from close-in Greater Beaufort and as far away as Sheldon, Callawassie Island, Dataw Island and Fripp Island meet each week to make music, rehearsing from 6:45 PM until 9:00 PM.
Six charter members who sang in the Chorale's first concert in May, 1997, are Karen Ayers, Andrea Coulter, Joan Dietz, Bob Gamble, Joan Grimes and Sally Haxby; Elaine Horton and Mike Masters joined the following autumn.
"I have developed many lasting friendships through the Chorale," said Joan Dietz, a gracious lady tenor who also serves as the group's treasurer. "And, belting out some really great music during rehearsals is a wonderful way to shoo the strains of a stressful day."
Lowcountry Chorale concerts, always stress free, are also always admission free, but do ask a freewill offering.