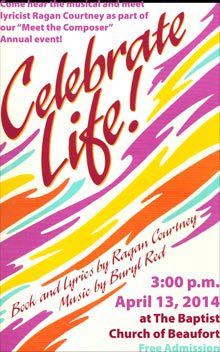 The Music Ministry at The Baptist Church of Beaufort invites the community to join them for their Meet the Composer/Lyricist Weekend , Sunday, April 13, at 3 pm, as they present the musical drama, CELEBRATE LIFE, by Buryl Red and Ragan Courtney.
Pastor and lyricist, Ragan Courtney, will be "in residence" at BCOB for the weekend to help put on the "finishing touches" for the presentation and share his faith story with the congregation on Sunday morning at 11:00 a.m. Many lives have been touched by CELEBRATE LIFE over the years as the work premiered in 1972, underwent a revival for its 25th anniversary, and most recently rose to the forefront of church music circles for its 40th anniversary, following the death of its musical composer, Buryl Red. Charlie Sinclair says, "Red was a pioneer church musician who thought that guitars and drums and almost anything else that could be played had a place in the sanctuary next to the pipe organ. He loved virtually every style of music as long as the presentations of it reached a level of excellence befitting the glorious Savior that we love." The Life of Christ is revealed through music and drama beginning with Jesus's birth, his ministry, his death, and his resurrection. The musical numbers and the drama are closely intertwined as the four gospel writers, Matthew, Mark, Luke and John, share more of the Christ story through their dialogue between musical numbers. Their parts are played by Alan Lathan, Paul Capps, Dennis Wilkins, and Pastor Jim Wooten respectively. The musical numbers feature the BCOB Celebrate Life Choir and several soloists, supported by keyboards, guitar, and percussion. "Comedic relief" is also a part of this presentation as the Three Kings, sung and played by Ted Barber, Larry Leming, and Kiel Seley, drop in from the East for a visit.
Everyone in the community is encouraged to include CELEBRATE LIFE as a part of their 2014 Lenten journey on Palm Sunday afternoon at 3:00 pm.