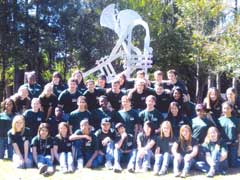 "Harmonies for the Holidays" could well be the theme for the upcoming Winter Concert of Beaufort High School's polished choral ensemble, the BHS Voices.  As in years past, both the Voices and Troubadours ensembles, collectively featuring 100 students, have been working diligently under the leadership of Beaufort High choral director Vic Varner to master the art of sight reading and develop outstanding performances for their season concerts.
Recently, the singers have been exploring a wide variety of music, including three Dizzy Gillespie compositions with Gillespie's signature fast tempos and intricate melodies.   Varner notes that this music can seem racing, nervous, and even fragmented.  "But, he says, "it is exciting and beautiful, as well as an important phase in the evolution of the art of jazz."  Last month the Voices performed this jazz set at the SC Jazz Festival in Cheraw, Gillespie's home town.
The Winter Concert will be performed on Wednesday and Thursday evenings, December 1 and 2.  This will be the ensemble's first winter concert performed in the 650-seat Art Center at Beaufort High School.  The 50-member BHS Voices will perform three sets, starting with sacred classical Christmas selections, featuring Pergolesi's Alleluia and Benjamin Britten's "This Little Babe," from his Ceremony of Carols.  A variety of styles will follow, ranging from traditional carols to a set of three Dizzy Gillespie pieces.
The Winter Concert begins at 8 PM on Wednesday December 1st and Thursday December 2nd with doors opening at 7:30 PM. Tickets cost $7 and are available at the arts center box office Noon until 1:30 PM during concert week, and also at the door.  For further information contact bhsvoices@gmail.com or call 322-2173.
Just the facts:
BHS Voices Winter Concert
Wednesday and Thursday, December 1 and 2
The Arts Center at Beaufort High School
Doors open at 7:30 PM · Concert begins at 8 PM
Tickets $7 at door or call 322-2173 (Box Office open Noon – 1:30 PM week of concert)