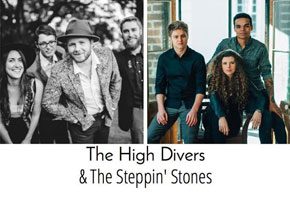 Hannah Wicklund was busy taking piano lessons and entering classical music competitions while most were learning their ABC's. At age six, she played her first show alongside her brother Luke Mitchell, playing Beatles covers. By age eight, the young talent had picked up guitar and formed her band, The Steppin' Stones.
The signature blues/soul performance style that Wicklund possesses has been compared to American blues and soul musician, Susan Tedeschi.
Wicklund and Mitchell are all grown up and enjoying separate, successful musical careers with their two popular bands, The Steppin' Stones and The High Divers. In just a decade, Wicklund formed her band, put out four releases and shared a stage with musical acts such as Kansas, Jefferson Starship, Outlaws and Lyle Lovett. Her band, The Steppin' Stones were primarily a cover band but the past three years Hannah has explored song writing and touring. Their sound, decidedly nostalgic rock sound is a collaboration by Wicklund, her drummer, Ian Jones and bassist, Andrew Ottimo. In between touring and playing gigs they have released an album recently recorded at Echo Mountain Recording Studios in Asheville, NC. The band reside in Nashville, just signed with a big booking agent and will be touring Europe next summer.
Mitchell, The High Divers frontman, started playing drums at eight and was singing and playing guitar by 14. He decided to form his band after an unfulfilling decade playing covers for tourists on Hilton Head. He began to live out his musical dream by moving to Charleston and diving right in (pun intended) to recording "Riverlust" an album about pursuing the things you love- with reckless abandon. Band members, Mitchell and Kevin Early (Bass/backing vocals) share a history, having played together in a cover band at the age of 14. Drummer, Julius DeAngelis who had toured with a southern rock band was recruited and Mary Alice Connor joined the group upon their arrival to Charleston adding some piano/vocals. The band has many musical influences including the singing styles of Tom Petty and Neil Young. 
"Her Dad (my Step-Dad),as well as our Mom, (local artist, Nancy Mitchell) and my Dad were always surprisingly, very supportive of us playing our music," shared Mitchell. Hilton Head was also very integral to their music careers, providing a foundation to really hone their craft. "There aren't many cities that will give kids a chance to play their music out in public, and for that, I know we are both really grateful," he added. For Mitchell, the best part about touring is letting other people share in his passion. He is always amazed at the kindness of people and how much they want to help. He explained, "They really bond with the "romantic troubadour" lifestyle, and I think a large portion of people wish they'd have followed their hearts instead of going after what people expected of them." "There are downsides to both," he chuckled, "because those people usually have a steady paycheck, among other nice things!" 
For Mitchell, the definition of success has changed over the years. "I can't speak to where Hannah wants to be, but I see her as being a huge rockstar, and although I'm a little biased, I know she's a great person, great performer, and has the raw talent that can get her there," he remarked. The two would be happy to continue touring and making albums as their only job. "That's every musician's dream, but I think we have the work ethic to make it a reality," he said, "Everyone always wants content, content, content, so we try to stay pretty far ahead of the curve, while maintaining a high level of quality. That's where it gets hard, sometimes. Quality and expediency don't always go too well together," he concluded.
Their upcoming show at The Rooftop Bar at Poseidon on Saturday, Oct 1st will bring the duo home to Hilton Head for some friendly sibling rivalry as their bands come together to play one concert. The two bands offer up different experiences that contrast their music styles. "People might be surprised at how well-versed Hannah is in the classic rock arena, and I think people of all ages will enjoy what she can do with a guitar," said Mitchell. Both bands have been at this for a long time, so any music lover will feel right at home, With tours planned, it could be the last time for awhile that the two bands  play a show together. 
His parting words of advice to other young, aspiring musicians: "Play as many shows as humanly possible, and don't wait around for people to come find you and help you out, you might be waiting forever."
The High Divers & The Steppin' Stones will play on October 1 from 9:30-1pm
Doors 9pm. Show 9:30pm. Admission $10. 21 & over. VIP Booths available. www.poseidonhhi.com, www.thehighdivers.com . www.steppinstones.com