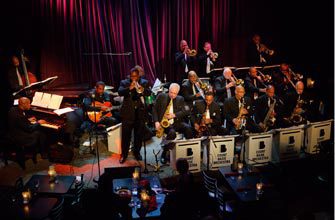 The Count Basie Orchestra is coming to Beaufort
The USCB Center for the Arts brings the legendary Count Basie Orchestra to its stage on the University's historic campus in Beaufort on Tuesday, October 28 at 7:30 p.m. 
           The Count Basie Orchestra is a 16 to 18 piece big band, one of the most prominent Jazz performing groups of the swing era, founded by William James "Count" Basie in 1935 and recording regularly since 1936. In the history of Jazz music there is only one band leader who has the distinction of having his orchestra still performing sold out concerts all over the world, with members personally chosen by him, nearly 30 years after his death.
           The basic fundamentals of Basie's orchestra were and still are foot stomping 4/4 swing, an unparalleled use of dynamic contrasts, shouting the blues at any tempo, and music that's danceable.  The Count Basie Orchestra can be viewed between 1935 and 1955 as the Old Testament and New Testament bands. The Old Testament band's style was a combination of spontaneously developed riff-driven, or "head" arrangements, full of the blues and relaxed, but intense swing that showcased some of the greatest names in Jazz history in Lester Young, Hershel Evans, Harry Edison, Buck Clayton, Dicky Wells, Jo Jones, Freddie Green and Jimmy Rushing among others. The New Testament Count Basie Orchestra was formed circa 1952 after Basie's brief hiatus from the full orchestra as he was working with a small group of six to seven pieces during the industry imposed recording ban that began in 1948. With the April in Paris recording in 1955, the orchestra began to set standards of musical achievement that have been emulated by every jazz orchestra since that time.
            The Orchestra has won every respected jazz poll in the world at least once, won 18 Grammy Awards, performed for Kings, Queens and other world royalty, appeared in several movies, television shows, at every major jazz festival and concert hall in the world.
           Scotty Barnhart was appointed as the Director of The Legendary Count Basie Orchestra in 2013 following the leadership of Thad Jones, Frank Foster, Grover Mitchell, Bill Hughes, and Dennis Mackrel.Current members include musicians hired by Basie himself: Carmen Bradford (1983), Clarence Banks (1984), as well as Mike Williams (1987), Doug Miller (1989), and members who have joined in the last 15 years: David Keim, Alvin Walker, Will Matthews, Marshall McDonald, Doug Lawrence, Cleave Guyton.
            The Count Basie Orchestra current line-up includes:Director Scotty Barnhart
Bobby Floyd/piano
Will Matthews/guitar
Marcus MacClaurine/bass
Dave Gibson/drums
Marshall McDonald/Lead Alto/Flute
Cleave Guyton/Alto/Flute/Piccolo
Doug Miller/tenor sax
Doug Lawrence/tenor sax
Jay Branford/Bari sax
Mike Williams/lead trumpet
Endre Rice/trumpet
Bruce Harris/trumpet
Kris Johnson/trumpet
Dave Keim/lead trombone
Clarence Banks/trombone
Alvin Walker/trombone
Mark Williams/trombone 
            Admission to this performance requires a ticket purchase. The cost to attend: $40 Adults; $35 Members. Detailed information regarding admission and other programs of the Center for the 2014-2015 season can be found on the Center's website at www.uscbcenterforthearts.com.  Tickets can be ordered online at www.uscbcenterforthearts.com or by calling the Center Box Office at (843)521-4145.