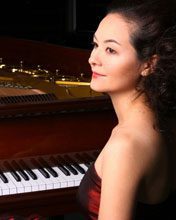 When you come to Fripp Island on Sunday, February 24 to hear Sandra Wright Shen's piano artistry, stay for the complimentary catered reception featuring Harold Merrill's delicious hors d'oeuvres and meet the internationally celebrated artist, you will have a multi-sensory experience, I assure you.
Sandra Wright Shen, you will agree, is a pleasure to watch and, more importantly, to listen to. She has been described as a "pianist of the first order" who "moves hearts." And she clearly moves critics, because she has won first prize in the 1990 Taiwan National Piano Competition when she was barely eighteen years old, in the 1996 Mieczyslaw Munz Piano Competition, in the 1997 Hilton Head International Piano Competition, and in the 2012 France International Piano Competition.
As a soloist, chamber musician, and guest artist with symphony orchestras from around the globe, or on tour with musicians such as cellist Nina Kotova, Sandra has played all over the US in prestigious venues like the Kennedy Center for the Performing Arts and in fourteen other countries all over the world. Some of you might have heard her at the Brevard Music Festival or in Charleston where she was Artist-In-Residence of the Charleston Symphony for the 2017-18 season. During her visit to the Philippines last month she not only gave several recitals, but also a number of master classes because teaching is one of her passions.  
As an educator, Shen served on the piano faculty at the Brevard Music Festival, the Masterworks Music Festival, the Steinway Society Summer Music Camp and the American Fine Arts Festival in Europe. She taught piano as a faculty member at Southern Illinois University and was twice invited to be Distinguished Guest Faculty at Furman University. 
Sandra performed live for WCQS radio station in Asheville, NC, filmed a 4-part series titled "The Movements of the Master Pianists" for Hong Kong TV, and "Inspiration From Above" for US Creation TV. She also hosted a classical music program on Taiwan IC radio station.
Shen's recordings include her debut CD featuring Rachmaninoff's Third Piano Concerto, and the Saint-Saëns "Carnival of the Animals."
As a philanthropist, she has played benefit concerts and provided music education for disaster victims, foster children and underprivileged children. She is Honorary Advisor for the Young Music Foundation and board member for the Inspiring Foundation of Arts and Culture in Taiwan. By the way, Shen will play for and teach students in a Beaufort school on Monday, the day after her concert here. So you can see, Sandra is generous, too.
Sandra was born in Taiwan and received her Bachelor of Music in 1994 with a major in piano performance and a minor in organ from the Peabody Conservatory of Music in Baltimore, Maryland, where she studied with legendary pianist Ann Schein and equally famous organist Donald Sutherland. She will come to Fripp from the San Francisco Bay area where she lives when she is not touring.
You cannot miss this feast for the ears, the eyes and the palate offered by the Fripp Friends of Music and supported by the SC Arts Commission on February 24 at 5:00 pm at the Fripp Community Centre. You will get a free pass to the island at the gate. Tickets are $30 (at the door only, no credit cards). Students are free. And don't forget, your ticket includes a complimentary catered reception where you can toast Sandra's show.. www.frippfriendsofmusic.com or call 843-263-5916.