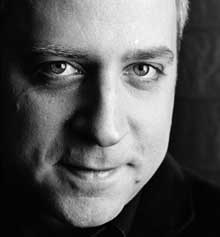 High praise from The NY Times: "Mr. Denk, clearly, is a pianist you want to hear no matter what he performs, in whatever combination – both for his penetrating intellectual engagement with the music and for the generosity of his playing. Wherever he plays, his reputation as an unusual and compelling artist, with a broad and thought-provoking repertoire grows."
This season he will make solo appearances in Carnegie Hall's Stern Auditorium and London's Wigmore Hall. Fortunately for Lowcountry residents, Jeremy Denk will also be performing at the USCB Center for the Arts on Sunday, February 10 along with the extraordinary young violinist Stefan Jackiw and the USCB Festival Series host and cellist, Edward Arron.
In 2012, Denk made his debut as a Nonesuch recording artist with a pairing of masterpieces old and new: Ligeti's highly complex Études and Beethoven's final Piano Sonata. This album was featured on Fresh Air with Terry Gross, while BBC Music's review concluded: "All in all, it's a marvel." The pianist also plans to record Bach's Goldberg Variations early in 2013.
An avid chamber musician, the pianist has most recently spent considerable time touring with violinist Joshua Bell, and French Impressions – their recording of Franck, Saint-Saëns, and Ravel – was recently released on the Sony Classical label, winning the 2012 Echo-Klassik award.
Known for his witty and personal music writing, which has appeared in the New Yorker, the front page of the New York Times Book Review, Newsweek, and on the NPR Music website, he also has a popular blog. The New Yorker music critic writes, "This is a voice that, effectively, could never have been heard before the advent of the Internet: sophisticated on the one hand, informal on the other, immediate in impact. Blogs such as this put a human face on an alien culture."
Denk lives in New York City, and his web site and blog are at jeremydenk.net.
High praise from The Sunday Times of London: "Jackiw does not deliver a preconceived interpretation, glazed and showy, but seems to invent it as he goes along. His sound is intimately detailed and apparently delicate, yet easily fills the hall. His technique, of course, is masterful."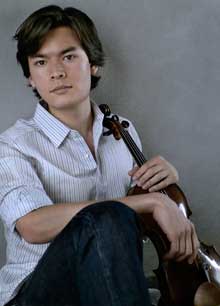 Violinist Stefan Jackiw is recognized as "one of the best and most interesting young violinists heard in a long time" (Chicago Sun-Times), captivating audiences with playing that is "striking for its intelligence and sensitivity" (Boston Globe). Hailed for "talent that's off the scale" (Washington Post), Jackiw has appeared as soloist with the Boston, Chicago, Cleveland, New York, Philadelphia, and San Francisco symphony orchestras, among others, and he has collaborated with such renowned conductors as Marin Alsop, Andrew Davis, Giancarlo Guerrero, Hannu Lintu, Ludovic Morlot, Yannick Nézet-Séguin, and Yuri Temirkanov. His solo performance of Mendelssohn's Violin Concerto with the YouTube Symphony Orchestra at Australia's Sydney Opera House last March was seen live on YouTube by more than 30 million people worldwide.
Jackiw made his Carnegie Hall recital debut this November, performing Stravinsky, Brahms, Strauss and a world premiere work by David Fulmer with pianist Anna Polonsky in Weill Recital Hall. Other season highlights include performances of the Mendelssohn Concerto with James Gaffigan and the Detroit Symphony, with the Royal Philharmonic under Charles Dutoit, and with the Netherlands Philharmonic and Louie Langree; Mozart's Violin Concerto No. 3 with the BBC Scottish Symphony Orchestra and The Hague Philharmonic; Mozart's Violin Concerto No. 5 with the Melbourne Symphony and Sir Andrew Davis; and the South American premiere of a concerto by Osvaldo Golijov with the Sao Paolo Symphony and Marin Alsop.
In 2011/12, Jackiw debuted with the Atlanta Symphony and the Rotterdam Philharmonic and enjoyed return engagements with the Chicago Symphony, Toronto Symphony, and the Rochester Philharmonic. Jackiw performed several high profile chamber music recitals, working with pianists Jeremy Denk, Orli Shaham, Joyce Yang, Anna Polonsky and violinist Gil Shaham, among others. This past summer, Jackiw appeared at a number of music festivals, including the Aspen Music Festival and Seattle Chamber Music Society.
Jackiw made his European debut in London in 2002 to great critical acclaim, playing the Mendelssohn Violin Concerto with the Philharmonia Orchestra under Benjamin Zander. His sensational performance was featured on the front page of London's Times, and The Strad reported, "A 14-year-old violinist took the London music world by storm."
On disc, Jackiw is garnering acclaim for his debut album of the Brahms Violin Sonatas with pianist Max Levinson (Sony). Fanfare magazine proclaimed, "Jackiw is fantastic. …This is now the recording of Brahms's violin sonatas to have."
High praise from The New Yorker: "It would be hard—very hard—to find better chamber music playing than at the cellist Edward Arron's enterprising series."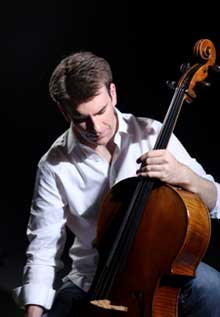 Festival Series host, cellist Edward Arron has garnered recognition worldwide for his elegant musicianship, impassioned performances, and creative programming. A native of Cincinnati, Ohio, Arron made his New York recital debut in 2000 at the Metropolitan Museum of Art. Earlier that year, he performed Vivaldi's Concerto for Two Cellos with Yo-Yo Ma and the Orchestra of St. Luke's at the Opening Night Gala of the Caramoor International Festival. Since that time, Arron has appeared in recital, as a soloist with orchestra, and as a chamber musician throughout the United States, Europe and Asia.
In the fall of 2009, Edward Arron succeeded Charles Wadsworth as the artistic director, host, and resident performer of the USC Beaufort Festival Series. The 2012-2013 season marks Arron's 10th anniversary season as the artistic director of the Metropolitan Museum Artists in Concert, a chamber music series created in 2003 to celebrate the 50th anniversary of the Museum's prestigious Concerts and Lectures series. He is also the artistic director of the Caramoor Virtuosi, the resident chamber ensemble of the Caramoor International Music Festival. Arron has performed numerous times at Carnegie's Weill and Zankel Halls, Lincoln Center's Alice Tully and Avery Fisher Halls, New York's Town Hall, and the 92nd Street Y, and is a frequent performer at Bargemusic.
The concert is at 5 on Sunday, February 10 at the USCB Center for the Arts on Carteret Street. Complete program information is available at www.uscb.e/festivalseries. Subscriptions and individual tickets can be ordered through Staci Breton at 843-208-8246/sjbreton@uscb.edu.