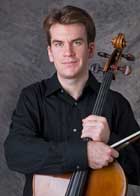 The Festival Series ushers in two Russian masters, a little fantasy, and more.
The March 28th program will be centered around two thrilling Russian masterpieces: Tchaikovsky's epic and impassioned Piano Trio for piano, violin and cello and Stravinsky's ingenious and quirky Suite from L'histoire du Soldat for piano, violin and clarinet. Artistic Director, Edward Arron has also included a tribute to Robert Schumann in the 200th year of his birth, with his poetic Fantasy Pieces for clarinet and piano.
Host and cellist Edward Arron will welcome back to the Series the dynamic clarinetist, Jose Franch-Ballester, as well as the elegant pianist, Gilles Vonsattel. In addition, this concert will mark the Beaufort debut of the internationally acclaimed violinist, Yehonatan Berick.  These prize-winning musicians will perform the three previously mentioned pieces and a sonata by Poulenc to complete the evening's performance.
Recipient of the highly coveted Avery Fisher Career Grant in 2008 and recently selected as one of the year's "most prominent emerging soloists, clarinetist Jose Franch-Ballester has been thrilling audiences in Canada and New York and will also be performing in Europe, South America, Korea and Japan during 2010.

Mr. Franch-Ballter was born in Moncofa, Spain and began his musical studies at age 9 with Venancio Rius Marti.  He graduated in 2000 from the Conservatory Superior of Music "Joaquin Rodrigo" of Valencia and then studied with Donald Montaro at the Curtis Institute of Music.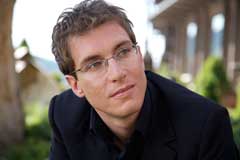 Also a 2008 recipient of the Avery Fisher Career Grant, pianist Gilles Vonsattel was the top prize winner at the 2006 Geneva International Music Competition and is a laureate of the Cleveland and Dublin Piano Competitions.  Heard often on NPR's Performance Today, Radio France Musique and the BBC, Mr. Vonsattel has produced highly acclaimed recordings of Liszt and Beethoven.  His touring season is varied with appearances at concert hallsand music festivals throughout Europe and the US.
Esquire Magazine did a feature on Mr. Vonsattel in spring 2008 focusing on his efforts to expand the conventional concert experience and citing him as one of America's most exciting ground-breaking classical musicians.  He studied in Boston with David Deveau and then worked with Jerome Lowenthal at Julliard where he received his MM.
Solo violinist and chamber musician, Yehonatan Berick maintains a busy performance sched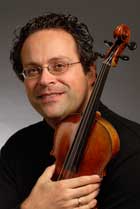 ule in Canada, the US, Europe and Israel.  Beginning his musical training at age six, he entered the Tel Aviv University's Music Academy at sixteen and completed his studies at the College-Conservatory of Music at the University of Cincinnati.  He currently plays on a violin made in 1852 by Honore Derazy Pee also available at the door.
re.
The March 28th performance will begin at 5 pm at the USCB Performing Arts Center on Carteret Street. For advance tickets, call Staci Breton at 843-208-8246, Monday – Friday 8:30 – 4:30. Tickets ar