The Fripp Island Friends of Music announce their next concert for Sunday April 27* at 5 pm at the Fripp Island Community Centre.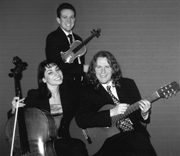 The concert will feature the International String Trio returning for their second presentation after receiving a standing ovation at their concert two years ago.
The International String Trio is composed of Slava Tolstoy, Guitarist and Musical Director, Irina Chirkova, Cello, and Ben Powell, Violin. They are a unique string ensemble, famous for stylistic diversity, and blending music from several traditions. Their repertoire includes: popular, jazz, classical and world music (Italian, French, Russian, Jewish, Latin American and Irish).
Slava Tolstoy received his Bachelors Degree in Contemnor writing and production from Boston's Berklee College of Music. He studied Composition and Guitar at St Petersburg Jazz Conservatory, Russia. He founded the International String Trio in 1999, developed a unique performance concept for the ensemble, and is an accomplished performer, songwriter, and producer.
Irena Chirkova was born in Bulgaria and has been playing the cello since the age of five. In 1977, she enrolled at the Boston Conservatory, received her Bachelor's Degree in 2000, and her Master's Degree in 2002. She is an active solo and chamber musician, and has won several awards and competitions.
Ben Powell was raised in England until moving to the USA for his college education. He was invited to play at the Nagano Winter Olympics in japan as part of the international Suzuki celebration. As a soloist Ben has given recitals in The Purcell Romms in London's Queen Elizabeth Southbank complex. He is avid jazz violinist, experimenting with the style for the last seven years. Currently Ben is finishing his studies at Berklee College of Music and performs on a regular basis with Boston Philharmonics.
The concert will be held at the Fripp Island Community Centre beginning at 5 pm and will be followed by a wine and cheese reception with an opportunity to meet the artists.
Non-members admission to the concert is $20 and students' cost will be $10.