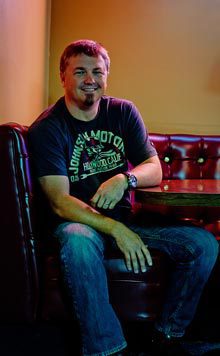 South Carolina's home-grown platinum recording star, Edwin McCain, comes to Ridgeland and The Jasper County Farmer's Market for a one night concert, Saturday October 22, and will be featuring his newest album, "Mercy Bound," released last month.
The Greenville native is considered one of the greatest crooners and song writers to come out of this region with 11 albums, many of which have reached platinum and gold status. His love song, "I'll Be" was named by more than one million viewers of the Dr. Phil TV show as "the best wedding song ever written." The New York Times dubbed him "the great American romantic singer," and at any given moment there is a radio station somewhere playing one of his songs like "Walk With You" and "I Could Not Ask for More."
The October 22nd performance begins at 8 p.m. with doors opening at 7 p.m. Advance tickets are available for $20 from the Jasper County Chamber of Commerce (843-726-8126) or $25 at the door. Food and drinks will also be available for purchase.
"We are thrilled to have Edwin back for a second straight year," said Kendall Malphrus, executive director of the Jasper County Chamber of Commerce. "Last year's concert was really great, and I expect that we will have a sell-out again, so it's best to buy tickets as early as possible. One dollar from each ticket sold will benefit the United Way of the Lowcountry."
Malphrus said the event will be held rain or shine and attendees are asked to bring lawn chairs but coolers will not be allowed on premises. Regional favorites Shannon Tanner and Bruce Crichton will perform as special guests during the show.
McCain's music has been described as "grainy America" with ties to jazz, southern rock and soul, and has been called by the media "the songwriter who has launched a thousand weddings" for his Top 5 single "I'll Be." His newest single "The Boy Who Cried Love" is expected to climb the charts quickly.
The Jasper County Farmer's Market is located at 9935 South Jacob Smart Boulevard (U.S. Highway 17) in South Ridgeland. For more details call (843) 726-8126 or visit www.JasperCountyChamber.com