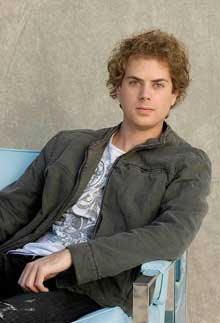 A very special performer will thrill Lowcountry audiences March 15th and 16th when Scott MacIntyre takes the stage. Readers may remember Scott as a finalist from season eight of American Idol, where he sang and played the piano like a virtuoso. Besides being an accomplished musician, Scott is an author and a motivational speaker who travels the world inspiring people with his talent, his deep faith, and his adventurous spirit. Scott MacIntyre also happens to be blind.
Scott started playing the piano by ear when he was 3 years old. At the age of 6, he began training in classical music. When he was 10, Scott studied at the Canadian Royal Conservatory of Music, and was admitted to the Barrett Honors College and Herberger College of Fine Arts at Arizona State University at the age of 14. He graduated summa cum laude from ASU in 2005 and obtained his masters degree at Royal Holloway, University of London, and the Royal College of Music.
In 2002 Scott won the Butterfield Young Artist Competition at ASU. He also won the 2004 Arizona Young Artist Competition in the vocal division. In 2005 he was awarded the Marshall and UK Fullbright Scholarships,was named one of USA Today's twenty college academic all stars and also performed as a guest soloist with the Phoenix Symphony. In 2008, Scott was given the VSA Arts Young Soloist Award.
In 2009, Scott competed in the eight season of American Idol and is the first visually impaired finalist. In addition to live concerts and motivational lectures, he has released both classical and pop albums with the latest release in 2010 entitled "Heartstrings". In 2012, he coauthored and published an inspirational story of his life entitled "By Faith, Not by Sight."
Scott MacIntyre will perform two concerts in our area: one on Friday, March 15th at the Hilton Head Beach & Tennis, and one on Saturday, March 16th at Bluffton High School. Both concerts start at 7 pm. Tickets are $35 general admission, $25 military personnel & students. A discounted group rate of $20 is available for groups of 10 or more. Call 843-689-2222 for tickets. Proceeds will support the services of the Pregnancy Center and Clinic.