The Hilton Head Island St. Patrick's Day Parade Committee is pleased to announce that Nashville recording artist and actress Michelle Murray will perform live in the 30th Annual Hilton Head Island St. Patrick's Day Parade Presented by iSelectMD. The march up Hilton Head Island's Pope Avenue begins at 3:00 PM on St. Patrick's Day, Sunday, March 17, 2013… rain or shine.
Murray's performance, which kicks off a 120-city "My Finish Line" Movie Premier and Music Tour, is a homecoming for Murray and her husband Tom whom she met while both lived on Hilton Head Island. Interestingly, Tom was once employed by Parade Grand Marshal Brian Carmines, and the couple had their first date at the Carmines-owned Hudson's Seafood House on the Docks. "I'm always thrilled to come back to the Lowcountry," said Murray. "Hilton Head Island is home to me and will always have some of my best memories and a special place in m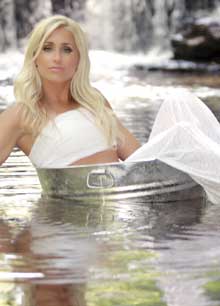 y heart. I am so thankful for the years of support from the wonderful people of Hilton Head. I always look forward to coming back to one of the most beautiful places in the country!"
"Our Parade's 30th Anniversary celebration just gets better and better," added Parade Committee Chair Kim Capin. "With iSelectMD's Presenting Sponsorship, the return of the Budweiser Clydesdales and now this, we're really setting the bar high."
As always, this year's Parade will feature marching bands from area high schools and the United States Marine Corps marching band from MCRD Parris Island, three Pipes & Drum bands, and the usual antics of the Shriners. To celebrate the Parade's 30th anniversary, a special "Founders" float will recognize those who have worked over the years to make the Parade what it is today since its creation in 1983. Additionally, rare appearances by the Budweiser Clydesdales and country music star Michelle Murray will help mark the Parade's special anniversary.
Brian Carmines, known locally as owner of the legendary Hudson's Seafood House on the Docks and for his benevolent work with the David M. Carmines Memorial Foundation, will lead the way as Grand Marshal. "I was surprised and very flattered to be asked," Carmines said. "It's a great time of year for us, and there's a lot to look forward too."
Parade Information: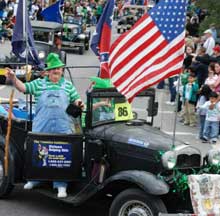 • The Parade begins at 3:00 PM Sunday, March 17, 2013 and will follow its usual route, starting at Pope Avenue and Lagoon Road and marching north up Pope Avenue, then turning left on Office Park Road at the reviewing stand and ending in front of the Park Plaza parking lot at Office Park Road and Greenwood Drive.
• Applications for floats and marching units are now being accepted online at http://www.stpatricksdayhhi.com/ (click "Parade Entry Form"). Entry fees are $275 for businesses and $100 for non-profit groups. Awards for floats will be given in the following categories: Irish Heritage (Best Irish Theme), Leprechaun (Most Spirited), Shamrock (Best Non-Profit), and Grand Marshal (Best Overall).
* To enter a marching band, or for information about available sponsorship opportunities, contact Jim Laferriere (843-684-0755).
* The Parade Committee is recruiting volunteers to assist in the staging area and along the parade route. Convertibles with drivers to serve as dignitary vehicles are needed as well. Volunteers should contact Gabrielle Van De Velde (843-422-7220, Gabrielle@StudioGabrielle.com), Frank Dunne, Jr. (843-684-5100, Frank@FrankFreelanceWriter.com), or Alan Perry (843-683-3634, qdal@aol.com). To furnish a dignitary vehicle and driver, contact Lynne Hummell (843-290-9860, hum90@aol.com).