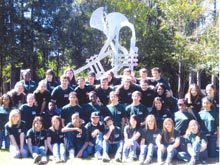 We love springtime in Beaufort, and one of the reasons is that the "Voices" of Beaufort High will once again shower us with song.  This year, however, these talented students also will present us with moral quandaries, humor and satire — Mark Twain style.  In addition to 3 sets of diverse and beautifully executed choral music, this spring show will conclude with a staged medley of "Big River."
Taken from Twain's Adventures of Huckleberry Finn, the hit musical "Big River" first appeared on Broadway in 1985, combining Twain's wit and story-telling with Roger Miller's musical genius.
Vic Varner, choral director at BHS, says his students at a previous high school performed Big River about 15 years ago and it was a tremendous hit in the community.  "The Huck Finn characters and the setting are so familiar to us, yet sometimes we forget the societal and moral dilemmas Huck encountered.  Through song, we hear these stories again and are inspired as well as entertained.  Another teacher at Beaufort High, Charlie Holfbrook, will join the students on stage as he becomes the character of Twain, narrating the story.
The Voices, InnerVoices and Troubadours will be featured in the Spring Show.  This collection of 100 students discovers early-on the value of discipline and commitment while also learning to read and perform music.  Their hard work will pay off for all of us when the first students take their place on the risers at 8 PM Tuesday and Wednesday evenings, April 12 and 13 at the high school's very accommodating Arts Center on Lady's Island.
Tickets are $7 and can be purchased at the box office between Noon and 1:30 the week of the show, as well as 90 minutes prior to the shows.  Doors to the theatre open at 7:30.
Contact bhsvoices@gmail.com or call 322-2173 for more information
WHO:  BHS Voices
WHAT:  Spring Show
WHEN:  8 PM, April 12 & 13
WHERE:  The Arts Center at Beaufort High School, 84 Sea Island Parkway, Ladys Island
Tickets:  $7 at Box Office or contact bhsvoices@gmail.com