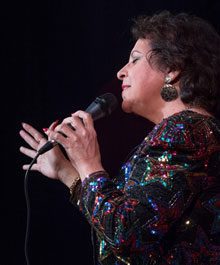 Stephanie Nakasian€"what a melodious, jazzy name for "the Renaissance woman of Jazz," one of the most celebrated Jazz singers in the world. Nakasian is recognized as a leading voice of this genre, continuing the legacy of the Great Ladies of Song like Ella Fitzgerald, Sarah Vaughan, June Christy and Rosemary Clooney.
Nakasian is a master of innovative Jazz improvisation with a fresh, vibrant, colorful sound. She brings high energy to every performance and enthralls listeners with her pure tones, flawless delivery, and playful, spontaneous musical narrative.
Nakasian has an unusual resume. With an MBA from Northwestern University, you would expect her to work at the New York Stock Exchange, which she did—for awhile. Then, in the mid-80s, she jumped to international attention when she toured and sang with the vocal Jazz master Jon Hendricks; in Stephanie'€™s words: her '€œvocal Jazz apprenticeship.'€ Since, she has developed an extensive repertoire that reaches from Jazz to Broadway, and her concerts all over the world, in venues such as the Kennedy Center, Lincoln Center, Northsea Jazz Festival in the Netherlands, even NC and SC Jazz Festivals, in hundreds of schools and clubs, never fail to capture the heart of the audience and are always followed by rave reviews.

She is also a prolific recording artist with 30 full-length albums as lead or as guest artist, including her acclaimed "Show Me the Way" and a special tribute to Billie Holiday, '€œBillie Remembered,'€ which was featured on NPR'€™s "Fresh Air" with Terry Gross.

As a faculty member of the University of Virginia, Nakasian teaches and inspires "next generation" artists through her vocal training courses, appearances at conferences and radio shows like Riverwalk, improv workshops, and books such as "You Already Know How to Sing: Voice Lessons, Life Lessons."€
Nakasian is accompanied by Robert Redd, a pianist whose current membership in The Duke Ellington Orchestra is the latest link in a long chain of remarkable musical engagements with Jazz greats like John Pizzarelli, Houston Persons, Melba Moore, James Moody, Oscar Castro-Nevis, the Artie Shaw Band, to name a few. Robert was pianist and musical director for singer/songwriter Kenny Rankin. He has played often with the Smithsonian Jazz Masterworks Orchestra and with the Charlie Byrd Trio. Needless to say, he has been performing in major venues all over the US and abroad. His recent tours went to Japan and Israel. You will love his artistry, and if you want to hear him again, go to the W.C. Handy Music Festival in Muscle Shoals, Alabama where he is a featured artist every year; or go to the The Irish Inn in Glen Echo, Md., where Robert plays with the Brooks Tegler Trio, which performs every Sunday evening, one of the longest running jazz gigs in the D.C. area.
Come and experience Stephanie Nakasian and her pianist on Sunday, January 28, at 5:00 pm, when the Fripp Island Friends of Music, supported by the SC Arts Commission, will bring both to the Community Centre, 205 Tarpon Boulevard. Tickets at the door: adults $25 (cash or check only), students free thanks to the Peg Gorham Memorial Fund. You get a free pass at the Fripp gate and are invited to join Stephanie and Robert at a complimentary, catered reception after the performance. www.frippfriendsofmusic.com or call 843-838-1777.
P.S. As always on Monday after the concert, the musicians will visit Beaufort schools to entertain and teach the students. FIFOM will use part of the proceeds to support young musicians in Beaufort.