Beaufort Performing Arts begins the 2009 holiday season with Marlena Smalls and the Hallelujah Singer's "Gullah Christmas" celebration, Thanksgiving weekend, Saturday, November 28, at 7:30 PM or Sunday, November 29 at 3 PM.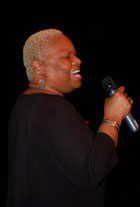 "Gullah Christmas" is an old fashioned Gullah celebration of the yuletide season with heartwarming Christmas stories, plantation carols and spirituals. Singers performing with Smalls for this special event are Sumitra Stewart, Tracey McGhee, Gladys Jenkins and Antonio Rivers. Each of these was a featured soloist during a recent Hallelujah Singers Reunion Concert.
Stewart will be featured with a dramatic and expressive rendition of "Sleigh Bells Ring" in her powerful soprano. Lovers of the bass sound will thrill to the performance of "Little Drummer Boy" by Rivers. Additional songs will include "O Holy Night" and "Children, Go Where I Send Thee," the number popularized by Harry Belafonte. The rare treat recognized and requested by audiences is the harmony of strong voices which made the group famous.
Smalls founded the Hallelujah Singers to preserve the melodies and the storytelling unique to the South Carolina Sea Islands. Worldwide performances delivered throughout the year celebrate the Gullah culture with original music composed by Smalls and Stewart along with plantation melodies, gospel and traditional spirituals. Weaving music and narration, the singers define language and traditions indelibly linked to West African heritage and its influence on the development of today's music.
The Hallelujah Singers travel extensively as Gullah ambassadors, teaching and entertaining in schools, auditoriums and festivals in their Fa Da Chillun Outreach Program. They have performed for the U. S. Congress, the South Carolina legislature, in Chicago's Ravinia festivals, the Kennedy Center, the Spoleto Festival and the G-8 Summit.
Tickets on sale now at the University of South Carolina Beaufort's Performing Arts Center or on line at beaufortscperformingarts.com. Ticket prices are $30-$25-$20 and half price for children 12 years old and younger. Discounts available for tour groups, churches, etc. Box Office: (843) 521-4145, Monday-Friday 10:00 AM to 5:00PM. University of South Carolina Beaufort Performing Arts Center is located in the heart of downtown Beaufort at 801 Carteret St. in Beaufort.