Duke Symphony Orchestra to perform in Beaufort with Conductor's Reception to be held at historic Tidalholm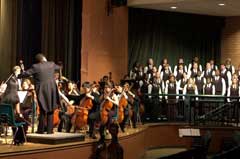 The Beaufort Memorial Hospital Foundation, known for its spectacular local events, is turning up the dial on the annual Duke Symphony Orchestra Concert. The magnificent orchestra is traveling to Beaufort to perform for its favorite audience for the seventh year in a row. Also, there will be an appearance by local choral group "Voices," all in the newly constructed Arts Center at Beaufort High School.
If those three attractions weren't reason enough to make plans to attend this wonderful event, scheduled for Saturday, March 27 at 7 p.m., perhaps the Conductor's Reception following the performance will be "the icing on the cake!" This year Mrs. Hilda Holstein is graciously opening the doors of her home, which is a Beaufort icon, to welcome Patron ticket holders to historic Tidalholm for drinks, heavy hors d'oeuvres, and socializing with the orchestra and Conductor, Harry Davidson.
Tickets are on now sale, and this year group rates are available for parties of ten or more. General Tickets are $35, with a group rate of $250 for 10 tickets, and Patron Tickets are $75, with a group rate of $500 for 10 tickets. And to top it all off (perhaps this is the "cherry on top") proceeds from the event will benefit Beaufort Memorial Hospital's Keyserling Cancer Center and Healing Arts Program.
The Duke Symphony Orchestra, drawn from Duke undergraduate and graduate programs has a repertoire ranging from the seventeenth to the twentieth century and includes both well-known masterpieces and rarely heard works.
Kinghorn Insurance of Beaufort, Lowcountry Anesthesia, and Wachovia are sponsoring the event. To purchase tickets or for more information about the event, call the Beaufort Memorial Hospital Foundation at (843) 522-5774 or www.bmhfoundationsc.org