USA Today best-selling author Jennifer Coburn's new novel is a page-turning thriller, and she will be speaking about Cradles of the Reich at the upcoming USCB luncheon series at 12 noon on March 7th at Belfair Clubhouse 200 Belfair Oaks Blvd, Bluffton. Tickets are available at www.uscbcenterforthearts.com.
The plot of Cradles of the Reich is based on the author's intensive research of a little-known Nazi breeding program that operated in secrecy for 10 years. Stemming from Germany's WWII racial purity laws, the Lebensborn Society's purpose was to repopulate the new Germany with pure-blooded Arian citizens and future leaders.
In Cradles of the Reich Coburn introduces us to three fictional German women, each caught in the Third Reich's warped agenda aiming to create 2 million "racially valuable" babies to support its new world order. To achieve this end, SS leader Heinrich Himmler established homes for unwed Arian mothers, but he also used these residences to make young Aryan women available to SS soldiers. Babies that resulted from these unions were to be taken from their mothers and placed in the homes of SS families, loyal to Hitler. To help reach its ambitious goal, the invading Germany army abducted an estimated 200,000 blond-haired, blue-eyed children from occupied countries, all brought back to Germany to be placed in orphanages and raised as Nazis.
The novel opens in Bavaria in 1939 when the story's main characters are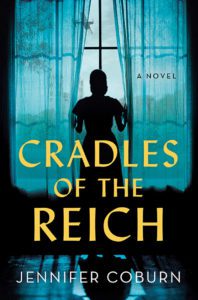 touched by this program. Gundi, the heroine, is an 18-year-old a blond, blue- eyed Arian girl who is secretly involved with a resistance fighter, a dark haired and dark-eyed Jewish boy. When she realizes she is pregnant, she lies to her family about the baby's father. Gundi is sent off to a Lebensborn home, fearing that the birth of her child will expose her secret.  Hilde is a young woman who is a true believer in Hitler's cause and eagerly decides to participate in the breeding program. The third woman, Irma, is a nurse who believes working in the home will provide an escape from the troubles in her love life. When she discovers the home's true purpose, she is ultimately forced to choose sides.
Jennifer's compelling novel speaks to the courage and heroism women are capable of, even in the most harrowing of circumstances. New York Times bestselling author Sarah McCoy writes, "The book kept me breathless … I couldn't put it down until the final heroic page." Come meet the author and hear about her remarkable journey that recently allowed her to meet a man born in one of these homes.