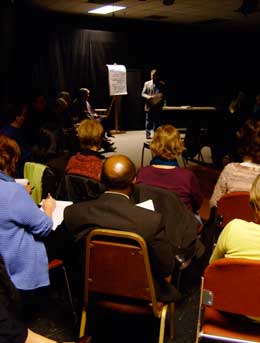 Thoughts on the Recent Emergency Arts Summit in Beaufort (by two Arts Council Staffers)
Over seventy people attended the Emergency Arts Summit! This invigorating meeting was organized by the Arts Council of Beaufort County to address threats and constrictions to quality of life, for both artists and the entire community. Held at ARTworks, staff set up a wide circle of chairs in the black box theater, preparing for thirty or so people. Soon, there was standing room only, plentiful greetings, bubbling discussions, and at least four berets (this was on a cold February 16th after all.)
JW Rone, the executive director of the arts council, facilitated. He divided this vocal crowd by artform + administrators (thank you Susan DuPlessis from the SC Arts Commission for traveling all the way from Columbia.) Below are their preliminary suggestions. The asterisked items (*) are already the specialties and responsibilities of the Arts Council, the designated umbrella arts organization for Beaufort County. So efforts are already underway! Thank you to everyone who attended, space does not permit listing all names. The next meeting is March 16th, please confirm at beaufortcountyarts.com.
Administration Group included Ian Leslie, Dick Stewart, Carrie Carper, Evan Thompson, Tim Hager, LaNelle Fabian, Edna Crews, Carlotta Ungaro, Stacy van Vulpen, Elsie Mufuka, Margaret Rushton, Lynn McGee, Dick Morehead and more.
1.  United Arts Fund (similar set up to United Way)
2.  Identify competent leadership from for-profit businesses to involve with non-profits.*
3.  Work with the City* to grant $50 – $100k per year to artists to live in the NW Quadrant
4.  Provide administrative work/consulting/professional development to artists*
5.  Find a method to provide 1,000 scholarships to 1,000 students
6.  Draw and keep people here* by creating a Beaufort Traveling Art Exhibit (to go outside of Beaufort County) and include all types of art forms including architects, landscape designers and interior designers
7.  Help artists find a way to give back* through "in kind" if not monetary [note: artists are already some of the give-backingest people around.]
8.  Collect firm data about what the arts do, will do and where dollars go.*
Visual Arts included Michael Pearson, Benoit Lavigne, Deanna Bowdish, Pat Keown, Gabrielle Hoffman, Darsi Johnson Devine, Paul Nurnberg, Carol Kamm, Linda Sheppard, Kim Keats, Parris Larrain, Chris Neitert, Benjamin Gillens, and more.
1.  National juried show (create or expand existing ones)
2.  Collaboration* — all medias together*
3.  Create a venue* to multiple organizations / create an arts district
4.  Media marketing* blitz [note: not a blitz but more of a streaming & adapting network.]
5.  Create a moveable/traveling exhibit (move around to existing venues in the county)
6.  Create a barter system (e.g., art for health care) [note: on April 27th there will be a meeting at ARTworks addressing bartering.]
7.  Big Art Festival – Waterfront Park
Theater included Michael Kane, Kay Owen, Ericka Pyle, Joanne Graham, Stephen Murray of Kazoobie Kazoos, and Deanna Kraszewski, Lowcountry School of the Performing Arts.
1.  Establish a county-wide talent roster (set designers/construction, techies, director, etc.)
2.  Increase youth involvement in community arts programs*
3.  Create a resource list for technical items (loaner program)
4.  Increase education of arts standards in schools and community*
5.  Theater companies need to be less territorial – "rising tide lifts all boats"
6.  Increase parental involvement*
Music included Laura von Harten, Tina Fripp, Greta Maddox, Donna Starkey, Mary Anne Hanke, Chris Raskind.
1.  Create a central artist registry for people looking to hire musicians
2.  Training in media coverage – submittal deadlines, what will you print, how do you want it formatted*
3.  More local performances for local musicians*
4.  Youth Music Showcase in waterfront park [note: many questions about the inaccessibility of waterfront park…]
5.  Fill empty seats at music performances with kids for free
6.  Explore alternate venues* for performances (The Green, Arsenal, etc…)
7.  Work with the City of Beaufort to make Busking legal [note: yay!]
8.  Make sure that there is good stewardship of the PAC and if the organization in charge isn't maintaining find a way to get it done (backstage now is very dusty)*
9.  Performing Arts Center at USCB should be used by locals first*
Literary included Melissa Murray, Ethard Van Stee, Faye Smit, and Stephanie Edwards who deserves a big thanks for outspokeness.
1.  "Cooperative" is somehow at the root of all of this. Look at what ACBC does already and figure out how to work together*
2.  How do we figure out financial resources and space that is inexpensive or free*
3.  Provide administrative resources to support grant writing*
4.  Art is Business – it has to work both ways*
5.  Look at the Arts Council, enhance what you've got*
*The specialties and responsibilities of the Arts Council of Beaufort County are not limited to only these asterisked items. The duties and efforts go on and on, like a middle school art class drawing lines to understand and absorb all the perspectives and vanishing points and dimensions.
From its office in ARTworks in Beaufort Town Center, the Arts Council of Beaufort County promotes and nurtures the arts 365 a year, and works as an independent, non-profit service organization that is not a function of the Beaufort County government. http://www.beaufortcountyarts.com, 843-379-2787.
UPCOMING DATES at ARTworks
Friday, March 5, 6-8pm
Opening reception for Youth Art Month at ARTworks, bright with student artwork of all subjects, many media, and a few dimensions, from all over the county, plus the Beaufort Youth Orchestra String Quartet. Free and open to the public.
Friday, March 12th, 7:30pm
Walt Michael In Concert @ ARTworks: the hammered dulcimerist of uncommon power will perform Old-time Southern Appalachian, Celtic music, and breath-taking original compositions. Michael has appeared at the Lincoln Center, the Kennedy Center and toured extensively throughout the US, Canada, Europe and the UK, appearing on ABC-TV, NBC's Tonight Show, Broadway, BBC, TNN, CBC, OLN and PBS, and has performed collaboratively with both the Pilobolus Dance Theater and the Alvin Ailey American Dance Theater. waltmichael.com, beaufortcountyarts.com, 843-379-2787, $10 at the door.