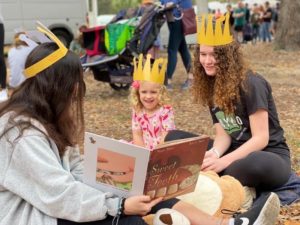 Students from Beaufort Academy, Beaufort High School, and Battery Creek High School will be reading to their younger peers at a Teddy Bear Picnic at the Port Royal Farmers Market (Naval Heritage Park, 1615 Ribaut Road), on Saturday, March 4, from 9:00 a.m. to noon. Free and open to the public, this special event is hosted by DAYLO: Diversity Awareness Youth Literacy Organization and held as part of the nonprofit Pat Conroy Literary Center's seventh annual March Forth.
Student volunteers from DAYLO and the National Honor Society will be on hand—and on the Farmers Market grounds near the gazebo—to read picture books to children (Kindergarten through 3rd grade) and their families, accompanied by an audience of teddy bears and other stuffed animals. In collaboration with the Storybook Shoppe children's bookstore of Bluffton, giveaways and readings will also be available honoring the annual Paper Bag Princess Day, celebrating the empowering message of Robert Munsch's children's classic.
Light refreshments (juice boxes and cookies) will also be provided for guests. Children are encouraged to bring their favorite teddy bear or stuffed animal to join in the fun.
To learn more about the full schedule of free and ticketed events for March Forth, please visit https://marchforth2023.eventbrite.com.