On Tuesday, April 4, at 5:00 p.m., the nonprofit Pat Conroy Literary Center and the Beaufort County Black Chamber of Commerce are honored to host veteran journalist for the Charleston Post and Courier, Adam Parker, to discuss his newest book, Us. Free and open to the public, this special event will be held at Sandies at the BCBCC (711 Bladen Street). Books will be available for sale and signing. No advance registration needed.
Adam Parker has covered just about everything for the Post and Courier, though he has spent most of his time writing about race, religion and the arts. His reported articles are not of the standard kind. The stories delve deep, investigating much of what informs life in the American Southeast. They are issue-focused and convey the experiences and perceptions of all kinds of people, from civil rights leaders to Cistercian monks. Us: A Journalist's Look at the Culture, Conflict and Creativity of the South is a collection of in-depth articles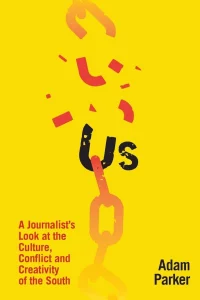 published by The Post and Courier over the course of nearly 20 years, and it reveals the breadth and scope of Parker's uncanny ability to pull back the scrim and take a hard look at ourselves and our community.
Parker earned two degrees in music, then spent a decade in the business world before going back to school for a graduate degree in journalism from Columbia University. At The Post and Courier, he has worked on several beats over the years, including religion, the arts and, most recently, race and history. A long-time student of the civil rights movement and race in America, he has written extensively about the African-American experience. He is the author of the biography Outside Agitator: The Civil Rights Struggle of Cleveland Sellers Jr., published by Hub City Press in 2018, and Us: A Journalist's Look at the Culture, Conflict, and Creativity of the South, published by Evening Post Books in 2022.
Learn more about the Pat Conroy Literary Center at www.patconroyliterarycenter.org. Learn more about the Beaufort County Black Chamber of Commerce at https://bcbcc.org.