The HH Art League serves up a tasty exhibit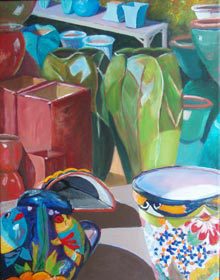 The Art League of Hilton Head is currently featuring the Apple Pie Painters at the Arts Center's Walter Greer Gallery. The exhibit runs through September 3. Each Friday the artists will host a Gallery Talk at 2:00 PM. The public is welcome. Call 843-681-5060 or visit www.artleaguehhi.org
"The Apple Pies are a group of artists who enjoy painting together, critiquing each other's work, discussing art ideas, encouraging each other and sharing meals together," says Marilyn Dizikes, who is known for her abstract and figurative works.
The Apple Pie Painters, now numbering ten artists, employ numerous styles and media in the creation of their diverse works of art expression; many of which are inspired by our beautiful Lowcountry home.
What is different about this group of plein air artists? Mary Kelly explains, "Painting outdoors is such a pleasure on Hilton Head – so many wonderful spots to choose from. Over the years we have developed favorite places that change with the seasons and are fun to return to. But the best thing is painting together with others who are accomplished artists, can discuss issues relating to the subject and are enthusiastic about the work they do. Having another professional eye as one is creating a work of art, is invaluable and makes being one of the 'Pies' so special. Having this companionship while painting is something I've never experienced before until I joined the Apple Pies."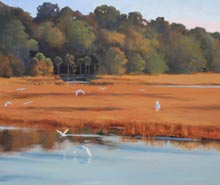 And how did this group acquire its name? In 1998, eight artists met for lunch to discuss the future of painting and exhibiting together as a group.  Peter Hadfalvi, one of the artists and an accomplished baker, brought a beautiful homemade apple pie cut into eight slices.  It was a perfect fit, so he suggested the name of "Apple Pie Painters" and the tradition began. The current members are Liz Rufenacht Bundy, Marilyn Dizikes, Vickie Bailey Ebbers, Peter Hadfalvi, Mary Kelly, Judy Saylor McElynn, John Norlander, Alexandra Sharma, Barb Snow, and Kathy Tortorella.
Scheduled artist talks:
Friday, August 5. Walk and Talk. Vicki, Liz, Peter, Barb and John remember our 13 years together with a little history (15 min.) Others, Kathy Tortorella, our new member, then talks about her painting styles and techniques.
Friday, August 12. Tips on matting and framing your art. Judy McElynn: Explore the different strategies for showing your art to its best advantage by using the work on exhibit as examples.
Friday, August 19. Marilyn Dizikes: Photos to Painting. Using a zoomfinder to
help you compose dynamic paintings from photographs; also, simple tracing
techniques to help you see value.
Friday, August 26. Mary Kelly: Travel Sketching. Capture art on the go with these quick, lightweight and effective solutions; samples of work and demonstrations of rubbing, watercolor without water, oil pastel and marker sketching.
All are members of the Art League of Hilton Head and exhibit there individually.  Exhibiting together annually, they have had group shows at The Walter Greer Gallery/ HHAL, Coastal Discovery Museum at Honey Horn, and the Sea Pines Community Center, and the Charles Street Gallery in Beaufort.
The Art League Gallery is located in the Greer Gallery of the Arts Center in Shelter Cove. The gallery is open Monday – Saturday from 10:00 AM till 4:00 PM, and one hour before shows in the Wallace Theater in the evenings. All of the artworks are for sale. In addition to the featured artists, the gallery will be displaying the work of other member artists as well. For more information call 681-5060 or visit www.artleaguehhi.org Admission is Free.