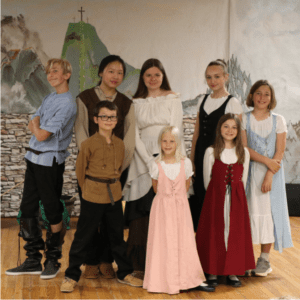 Over 40 Holy Trinity Classical Christian School students will be performing in the 10th Annual Spring Production, Mischief Matters, on Thursday and Friday, May 4 and 5 at 6:00 pm at Praise Assembly Church, 800 Parris Island Gateway.
Mischief Matters is an original play written by Holy Trinity second grade teacher and Drama Department Head, Elizabeth Booman. Mischief Matters is a play for the whole family.
Booman writes in her introduction: "Mischief is brewing in the town of Dusseldorf, Germany, in the year 1364, where the townspeople are crushed under the heavy hand of a power-hungry mayor. To make matters worse, a mysterious infestation of vermin threatens to overwhelm what little happiness they have. When an ancient, magical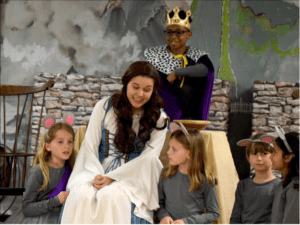 object is discovered in the river of Dusseldorf, Paulus Leuthold, the son of the rival mayor, wonders if its power can defeat the forces of evil – or if its power is locked somewhere in the past. To find the answer, Paulus must journey into the pages of history, back to the little town of Hamelin, where he is faced with startling truths about his past, his future, and the future of all Dusseldorf."
Booman began writing plays for her family to perform when she was nine years old; she has loved theater and
writing ever since. She wrote her first play for non-family members in 2012 when the need arose for a school Christmas program. Since then, she has written, directed, and choreographed 20 more plays for Holy Trinity Classical Christian School. Elizabeth writes the scripts, songs, and lyrics, while her sister Anna Booman provides musical arrangement. Anna is also a teacher at Holy Trinity where she teaches music and art.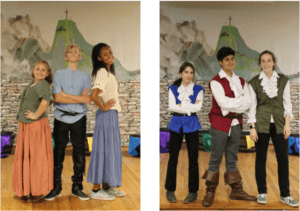 Complete with songs and dances, strong morals and Christian ideals, Mischief Matters is a play for the whole family. Online ticket reservations and payment are available on the school's website at www.HTCCS.org/theater/mischief-matters/. The cost is $10 for adults and $5 for students. For additional information, please contact the school's office at 843-522-0660.
Founded in 2012, Holy Trinity Classical Christian School (HTCCS) provides students with a distinctly Christian and classical education in Beaufort, SC. HTCCS serves over 370 students in preschool-high school. Academic instruction at HTCCS is rigorous, affording teachers and staff members the opportunity to engage with high-achieving students in a Christian environment. For more information about the academic excellence offered at Holy Trinity, please see www.htccs.org.