Wendy Goller paints her passion for this Beaufort Art Association Gallery exhibit.
Wendy Goller was born in Greenville, S.C. but grew up in Columbia. She won numerous awards in high school and went on to study art at the University of South Carolina. There she studied painting under renowned artist Phillip Mullen and drawing with illustrator Chris Jones.
Although earning a BFA from USC, Wendy decided to go directly into the restaurant business. In 1978, she opened Wendy Ethel's Restaurant and Saloon on Main Street in Columbia. There she met and married former South Carolina Wildlife magazine photographer and S.C. Department of Natural Resources marketing director Jim Goller. In 1999 Wendy became interested in real estate. She became a licensed Realtor and later a successful broker.
In 2006 Wendy and Jim moved to the Lowcountry, Jim to continue as executive director of the Harry Hampton Memorial Wildlife Fund and Wendy to join a local real estate firm. Establishing themselves in Beaufort, Jim recaptured his love of fishing and photography and Wendy became an artist again.
Wendy loves detailing the bountiful and beautiful local marine life of Beaufort Count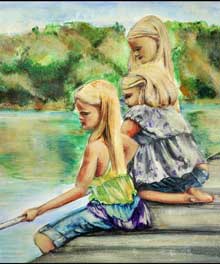 y. One of her favorite subjects is the sea turtle, but dolphin, red drum, sea trout and other fish have also become her subjects along with crustaceans like shrimp and crabs. She enjoys working in a variety of mediums and loves the endless choice of subject matter that living in the South Carolina Lowcountry provides.
Hooked on Fishing is about capturing the fun and mystery in the art of fishing. This exhibit features anglers of all ages and types. Several scenes are portrayed in Gouache, an opaque watercolor with a binding agent that gives it more versatile properties than watercolor, but allows it to spread and mix much the same way.
The Beaufort Art Association's reception for Hooked on Fishing will be held at the BAA Gallery on Friday, May 17th from 5:30 to 7:30p.m. Wendy will be there with her husband, Jim Goller. Jim will be available for coaching avid anglers and wannabe fishermen!