Red Piano Too to feature Sonnell Thompson in Heritage Days exhibit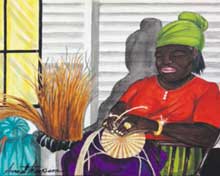 The weekend of November 8 – 11 will witness fifteen to twenty thousand visitors to Saint Helena Island. The visitors will be in the Lowcountry to commemorate 150 years of Penn Center History. This will all occur during the 30th annual "Heritage Days" at Penn Center.
For the past 20 years the Red Piano Too Art Gallery has hosted an exhibit during Heritage Days. This year the gallery is featuring its latest "Rising Star," Burton native, Sonnell Thompson.
Sonnell, born in 1977, graduated from Battery Creek High School. It was at Battery Creek that he first became aware of his desire and ability to paint.
A memory painter, Sonnell's work is a study of the exuberance of the Lowcountry regions flora and fauna. This he intermixes with the indigenous richness of the Gullah people and culture.
His art combines his love of painting marine life and the ocean with his childhood memories of the Gullah Lifestyle. Central to his work is his study and love of books on marine life. His use of fish in his compositions along with a very prominent bright orange sun can be found in most of his paintings. Sonnell says,"I love nature – I guess I'm just a naturalist by nature."
His work is influenced by that of Lowcountry artist extraordinaire Jonathan Green. Sonnell sought Green out and scheduled an appointment to visit with him in his Daniel Island Studio. He said Green encouraged him to "paint what you know – paint from your memory – establish your style and develop it." This advice can be clearly seen in Sonnell's newest works. His paintings have become much more cohesive with a centrality to them.
In addition to painting, Sonnell enjoys writing poetry and hopes to one day publish a book of his poems with his art as illustrations.
Sonnell resides in Beaufort with his wife Elaine who he describes as, "My inspiration for what I do." Both Sonnell and his wife are pursuing degrees through online enrollment at Everest University. He is working on a degree in business and computer applications. He describes himself as "a devout church going man" and his serenity is reflected in his paintings.
The exhibit will hang at The Red Piano Too Art Gallery during the month of November. The artist will be at the gallery during Heritage Days Weekend.
The exhibit is free and open to the public. For additional information call (843) 838-2241 or email RedPianotoo@islc.net