By Pat Brannng
Edisto Island is a flat sub-tropical barrier island just south of Charleston – a place of majestic live oaks, heavily laden with Spanish moss that form cathedral-like canopies over ever-winding sandy roads. Black gum trees, live oaks and scrub brush line the sides of Hwy. 174 as it winds its way toward the sea. Oysters crowd the creek banks and shrimp, blue crab, and mullet are there for the taking for anyone with a cast net. Most of the land is a jungle of tangled oaks, magnolia trees, palmettos, and yuccas standing high above a woodland floor.
Once this land was a refuge for escaped slaves who armed themselves, joined Confederate forces and clashed with Union soldiers during the Civil War. Union forces later positioned themselves on Edisto where they developed a staging area for future campaigns against Charleston, just twenty-five miles away. Eventually, the colony of African Americans grew and the Union Army protected thousands of freed slaves who had taken refuge on this barrier island.
This historic island deep in the heart of the Lowcountry of South Carolina is the location for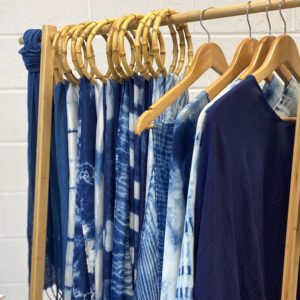 the farm where Caroline (pronounced care-oh-lean) and her husband David Harper grow indigo.
For 50 years, starting in the late 1740's, indigo was a major South Carolina cash crop, second only to rice.  At one time, the extracted pigment, dried and shaped into circular cakes, was so prized that it was sometimes called blue gold, and used as currency – even as barter for slaves.
After the Revolutionary War, indigo processing fell into obscurity, relegated to the fringes of the agricultural conversation as a historical oddity.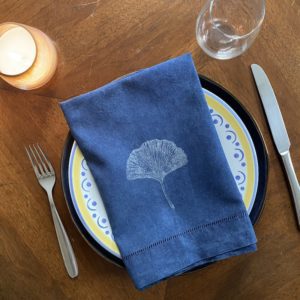 Today's farmers, textile dyers and fabric artists on John's Island near Charleston and in the greater region, are championing indigo as a sustainable, regenerative alternative to modern-day, petroleum-based dyes. As more residents learn about indigo's former prominence, they are beginning to cultivate the plant and experiment with its many uses. With the crop's resurgence, the Lowcountry is in the midst of an unexpected indigo revival.
Caroline Harper will be hosted by The Social Betty, 204 Carteret Street on Saturday, November 26, from 1-4 pm. She will be speaking about the art of indigo and offering many of her products for sale. Drinks and light refreshments will be served throughout the afternoon.