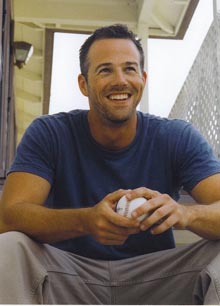 By Margaret Evans, Editor
Around here, we often refer to Gary Weeks as the Beaufort International Film Festival's MVP. His movie 29 Reasons to Run won Best Feature Film in 2007, his script Bad Advice From Good People took Best Screenplay in 2013, and he's had five other nominations. A triple threat – actor, writer, director – Gary's kind of like Forrest Gump's famed box of chocolates; you never know what you're gonna get. This year, he's up for Best Actor in the short film Bet on Red and will also be presenting the award for Best Feature Film. I spoke with Gary last week, as he was preparing to head from Atlanta to Beaufort for the 8th annual BIFF.
ME: You're one of BIFF's favorite alumni, Gary. Not only do you keep entering and winning, but I think you've actually attended the festival more than any other multi-nominated finalist. Why do you keep coming back? What is it about BIFF?
GW: There's something magical about BIFF.  Some mixture of genuine people, gifted filmmakers,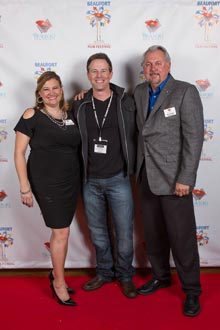 fantastic crowds, and the pure love of film . . . Ron and Rebecca have found a way to bottle it up in one long weekend. And I drink it up like Gatorade. When I was living in LA, it also became a tradition to fly in and my Mom and I would go together for fun. She couldn't make it last year, but she'll be there this year, watching every film humanly possible. So I get to spend quality time with filmmakers, the fest staff, the people of Beaufort and my Mom and Stepdad. Pretty sweet deal. This will be my 6th time, I believe, and I'll keep coming as long as they will let me. New project or not.
ME: This year, you're nominated in the Best Actor category for your role in the film Bet on Red. Without giving any spoilers, tell me a little bit about the film and your character.
GW: Bet on Red is a modern-day nod to film noir, set in Vegas, based around greed and women. What's not to love? My character Sean is a contract killer, which at first I didn't think I fit. When John (director John Murray) approached me with his script, I totally loved it and jumped on this challenge to play against type. It scared me. I liked that. John didn't want me to play the stereotype. We saw Sean as a blend-in, normal dude, not a stereotypical gangster, who never expresses emotion (very different from me), and who never makes mistakes (very, VERY different from me), until this situation. John saw every scene as a poker game, and I got to play poker with the lovely and amazing Kate Beahan (The Wicker Man), George Williams, and my Zombie Apocalypse co-star and friend Johnny Pacar, and an outstandingly cool cast and crew.
ME: I see in your bio that you grew up in a small town in Georgia. Do you think that background has influenced your career and informed your work?
GW: It not only influenced it, it created it. I grew up in an area with two TV channels, no kids around for miles, so my brother, sister and myself had to "create" everything. We played outside all day, made forts, created characters, and once we got a video camera it went to a whole new level. All three of us have creative energy, and have used it in different ways as adults. My brother Tony said once that "our family made us believe we could do anything we dreamed of, and we haven't figure out that we can't yet." He's right. They are incredibly supportive. Every bit of success I have been lucky enough to have, I owe to my family.
ME: You're a working screenwriter, director, actor, and family man. Describe a typical day in the life of Gary Weeks. Or is there any such thing?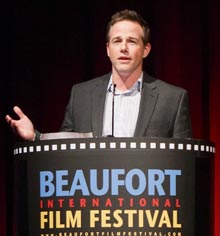 GW: Hurry up and wait. The joke is that "we get paid to wait, but we do the acting for free." On any given week, I have anywhere from 2-10 auditions, and am lucky enough to fit the work that goes into that around my kids and family time. I make calls, emails, meetings, and wait to hear if any of my auditions will go further. When I work, I may be gone for weeks or months, so I soak up as much family time as I can. I've never had a 9 – 5 job, and my unscheduled workflow proves it. I'm all over the place. I write at any hour, whenever I can. Lately the voice recorder has been my best friend. My mind is always flying around in 100 different directions, obsessing, overthinking, carrying whatever character or story I may be working on at the time, but at the end of the day, it always comes back around to my kids. My two boys have totally changed how I look at my career and my life. They keep me grounded – They look at me and they don't see an actor, they see a cheesy dad who does voices, acts crazy, and will do anything to make them happy. I have a really cool job, but my family is my life. And God bless my wife Jessica – She's an amazingly patient person. She doesn't get enough credit. There should be a support group for spouses of performers. Actors are just plain crazy.
ME: After 15 years in LA, you now live in Atlanta. Is that where most of your acting work happens, or do you travel to most of your sets?
GW: I moved back to Georgia last year. We call it "based out of" since actors' jobs these days pull us wherever the work is. In the past year or so, I have shot in 8 states – sometimes for a few days, often much longer. I recently spent a few months in New Orleans shooting the Ryan Reynolds film Selfless, and it's hard being away from my family for that long, but they are very understanding, and I traveled back as much as I could. On the flip side, I now have recurring roles on two Atlanta-based shows this year (the new ABC series Resurrection and USA's Complications), and it's awesome to get to come home to my family every night. That's the dream.
ME: Speaking of the dream, you've had small parts in lots of big TV shows – Nashville, The Walking Dead, Revolution, Army Wives . . . Do you enjoy working on a variety of projects, or do you dream of landing one great role that will keep you on the same show for years?
GW: My goals change every year. When I was younger, my answer would be to play every kind of role, jump from project to project, and be with the wind. A big part of me still absolutely loves that. As I get older though, I would be thrilled to snag a regular role on a hit series that has a long run . . . hopefully shooting somewhere near a beach. But at the end of the day, I am honestly grateful for every role. I absolutely live, eat, breathe and drink my job. I love what I do.
ME: How important are festivals to up and coming filmmakers? When a filmmaker takes his movie on the festival circuit, what is he hoping for?
GW: As an indie filmmaker, it can be to find an audience who enjoys your film. It is so gut-wrenching to build a film from zilch, and there's nothing more satisfying than finally seeing it with an audience who appreciates it. You also get to meet brilliant people you will know or work with in the future. For me, these days, it's about meeting other filmmakers and creative people who see the world as weirdly and as widely as I do. It never ceases to amaze me how creative the mind can be, and how so many artists can express one idea in so many amazingly different ways. It's all about perception. I love getting a glimpse into other artists' minds. It makes us better. It helps us grow.
ME: You and your friend Chad Mathews started your own festival, The Hill Country Film Festival. Tell me a little about that.
GW: We had so much fun on the fest circuit with our short Clones Gone Wild that Chad brought an idea to me about starting one in his favorite childhood spot of Fredericksburg, TX. Five years later, we're screening some of the best indie film in the country. Both of us have worked on huge projects, but our true love is the indie world. Our fest is the perfect fit, and much like Beaufort, we celebrate the filmmakers as much as the films. It's a lot of work, but is one of the best decisions I have ever made. (Your readers can find more info at www.HillCountryFF.com)
ME: What's next for you, Gary? Any exciting projects on the horizon?
GW: I can now be seen in theaters in Ride Along with Ice Cube and Kevin Hart, and again in theaters
Feb. 27th in Welcome to Yesterday. I guest star on CBS's Reckless (shot in Charleston) as well the shows I talked about earlier, starting in March. Writing a few new scripts too. I'm would love to add "shooting a feature film in Beaufort" to that list by year's end. Fingers crossed.
ME: Mine, too! What do you look forward to most about returning to Beaufort this year?
GW: The vibe. Beaufort is just relaxing and beautiful. I look forward to taking a break and soaking it all in. Watch some great films. Hang out with Ron, Rebecca, and all the great people I have been able to meet over the years, as well as get some quality time with my mom. You're never too old for that.
To learn more about BIFF nominee and presenter Gary Weeks, visit www.GaryWeeks.net or www.imbd.me/garyweeks. For more information about BIFF, visit www.beaufortfilmfestival.com