Beaufort's Homegrown Film Fest is On The Clock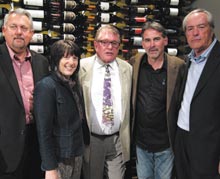 The Beaufort International Film Festival – BIFF to locals – celebrates its seventh season come February. The festival's grown exponentially in recent years from few hundred mostly local attendees its first year to about 7000 in 2012. This was a milestone year for the festival as it moved across the river from the old Lady's Island location into the USCB Center for the Arts.
As the deadline for entries officially closes for the 2013 fest, Mark Shaffer sits down with BIFF Executive Director Ron Tucker for a look at where the festival's been and where it's headed.
Mark Shaffer: One of the major factors in the festival's growth has been broadening BIFF's appeal, spreading the word.
Ron Tucker: When the [Beaufort] Film Society took over the festival from the Chamber of Commerce in 2009 we put a big emphasis on getting people in from outside the immediate area. Last year by our count we had about 7000 people attend some aspect of the festival. A lot of that has to do with advertising and some of it is due to the fact that people love to come to Beaufort and the film festival's a great reason to visit.
MS: This is a destination event during one of the slowest times of the year, and not by accident.
RT: That's why we picked February. We're settled on President's Day weekend, so if anybody's making long range plans that's when the film festival takes place. There are a couple reasons for that. First, there's nothing else going on in the area and second, there's no Marine Corps graduation that weekend which means the hotels are empty. And we welcome the opportunity for tourists to come and enjoy the film festival and Beaufort and know that if they enjoyed it in February they're going to love to come back in July.
MS: Last year BIFF moved downtown and it was nice to see the streets filled with people sporting the T-shirts and lanyards, carrying shopping bags, filling up the bars and restaurants – and with freakishly gorgeous weather, once again.
RT: We've been lucky with the weather. The last four years it's been short sleeve weather and I think people who've never been to Beaufort must think, wow if it's this nice in February it must be great in the summertime. And moving downtown to USCB, it's really become a walking event. You can stay downtown and walk to the venue. Transportation's not an issue. We loved the old intimate venue across the river, but now attendees can take a break and walk to get a bite to eat or whatever.
MS: Or grab something from one of the concessions and have a picnic by the river and enjoy that million dollar view. By virtue of the University's opera and Independent Film Series the venue's also invested in some technical upgrades since the last festival.
RT: We're the obvious beneficiary of their relationship with Emerging Cinemas with improvements in sound quality and other things they've tweaked. It's a great venue. We went from a 163 seat theater to roughly 450 useable seats and we had full houses for a number of screenings last year.
The 2013 festival's going to have a different look and we've instituted some changes to get a better idea of where people are coming from. We'll have pollsters asking attendees what brought them to Beaufort. Was it the film festival? Did you just stumble in the door? We're going to have a thorough head counting system using some new technology and whatever it takes. And we're going to have an old fashioned map so that people can walk over and stick a pin in the spot they're from. It should be fun to watch it fill up.
MS: A lot of the filmmakers tend to stay in touch with you, with us, with each other long after the festival's over. That community seems to build each year. In fact, some of them don't want to leave.
RT: Some say they're going to make another movie just to have a reason to come back. That filmmakers' grapevine's been good to us. We have some filmmakers who've stayed in touch or been part of the festival since year one. [Actor/writer/director] Gary Weeks, for example, won the first year and has become a really big part of our festival and is already looking forward to 2013. He's submitted a screenplay and a short film. And he continues to work as an actor, currently on [AMC's] "The Walking Dead.'
We have a lot of local entries this year and by "local" I mean Beaufort. We have a screenplay born out of Tim Johnston's 1st annual Short Story America Festival that just took place in Beaufort and Tim's also submitted a screenplay.
We've also got a documentary on the shrimpers of St. Helena and efforts to preserve that culture.
MS: The documentary category always seems to provoke some strong reactions. Last year's "Awaken the Dragon" from Charleston inspired the creation of the local Dragon Boat Beaufort organization literally within minutes of the screening.
RT: That hit a nerve here in Beaufort. A lot of people at the screening were affected emotionally by the story and felt inspired to do something. By the time we had the after party that night at Saltus they were passing out cards and a few weeks later were holding practice in Waterfront Park. That's something I really love about the film festival: how one film can inspire people to action.
I stumbled onto a film that was still in production at the time and invited the filmmaker to submit it after seeing a clip. She's a former basketball player at Villanova and the film is called "Granny's Got Game."
MS: I'm already in the seat.
RT: She responded to the invitation by saying that with all the passion and emotion that went into this film she thought it could be 2013's "Awaken the Dragon." So she was already aware of all that without me mentioning it.
MS: The student films seem to get better and better each year.
RT: The student film category's really become an audience favorite because of the quality. Most of the films are senior thesis projects from the filmmakers of tomorrow. And that's what BIFF's all about in the first place. We've got some amazing, over-the-top entries this year. The first one came from the University of Southern California and it's awesome. The [University of] North Carolina School of the Arts has a ton of entries as usual plus films from Florida State, the New York Film Academy, the University of Montana, SCAD and more. Seems like every major film school's found out about us and submitted their best stuff – which is going to make it hard for the judges.
MS: As it should be.
RT: We always say that part of our goal is to educate and entertain and it's always amazing to see the stories that come through each year.
GET MORE
The 7th Annual Beaufort International Film Festival takes February 13-17, 2013 at the University of South Carolina Beaufort Center for the Arts. Advance tickets go on sale December 1st with substantial discounts for Beaufort Film Society members. Find out more online at www.beaufortfilmsociety.org and www.beaufortfilmfestival.com and watch for updates and interviews with the filmmakers in these pages and at www.lcweekly.com