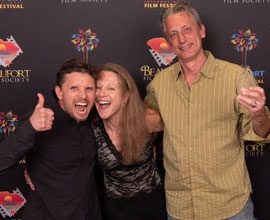 The Beaufort International Film Festival Celebrates
Story by Mark Shaffer
The numbers – all of them records – preface the story: 16 thousand tickets sold, four days and nights of screenings, each screening averaging over 300 people with more than eighty filmmakers and attendees representing 33 states and half a dozen nations. Now, here's the real story: this is one of the top 20 film festivals on the planet and it all takes place on one screen, under one roof, on an historic college campus backing up to the Intracoastal Waterway in a theater that seats less than 500 people. 
"We had a lot of new faces from a lot of new places this year," says Ron Tucker. "And it all started with a rocket launch of an opening gala." And yes, it was a record crowd packed into the
historic district's premiere event space. The theme was classic movie gangster as an homage to Lifetime Achievement honoree, Paul Sorvino, complete with arias performed by an operatic tenor. The next morning more than 200 people showed up at 9am to kick the screenings off with a 5 minute animated feature from Toronto. This is what the Beaufort International Film Festival inspires. 
2019 marks a decade since Ron and Rebecca Tucker assumed control of the fest under the auspices of the Beaufort Film Society. To put things in perspective, the total attendance from their 2009 festival was about equal to a single screening at this year's event.  In 2010 the Tucker's hosted BIFF's "coming out" party. Beaufort's favorite adopted son, the late author and Oscar nominee, Pat Conroy, shared the spotlight with two stars from the film adaptation of his novel The Great Santini, Blythe Danner and Michael O'Keefe.  And the buzz began. MovieMaker Magazine added BIFF to its Top 25 Coolest Film Festivals in the World, and Film Freeway recognized BIFF as one of the "Top 100 Best Reviewed Film Festivals in the World," based on filmmakers' reviews. The buzz continues to build. According to Film Freeway BIFF now ranks in the top one and half percent of 7000 film festivals on the planet, currently sitting at #16 in the top 100. 
And it's all based on that buzz, says Rebecca. "We rely heavily on word-of-mouth. Everyone spreads the word, the filmmakers recruit other filmmakers and it keeps growing."
Los Angeles based Writer/Director Felix Martiz' feature Santiago, was the talk of the 2012 fest, taking Best Director for Martiz and Best Actor for Jesus Guevara. He submitted to BIFF after meeting a pair of local filmmakers at a festival in Mexico.
"I'd never been to the South so I was skeptical," he says. My dear friends Teresa Bruce and Gary Geboy, who I met in Oaxaca, told me I was going to love Beaufort. They were right. My screening for Santiago was packed, which did come as a surprise since it's a bilingual film. The small town setting and central screening location makes for a very special experience. Its becomes an instant filmmakers' hub."
This BIFF was Martiz' fifth and the fourth for his producing partner, Xio Castro (both pictured above). It was the first time they didn't take home a trophy, but they did pay it forward by recruiting a rising young Mexican director into the fold. 
"I love Eddie Rubio's film Lucha," says Martiz. "When I saw it I reached out to Ron and said that he had to see this film! I mean its gorgeous, beautifully shot, raw, emotional, violent – basically it checked all the boxes for what makes an amazing film experience for me. The judges at BIFF saw it and thought so too. So Eddie was accepted and I told him he had to come, that this was unlike any experience he'll ever have. And I said that knowing that he's been to some huge
worldwide festivals. He flew in from Mexico and the experience blew his mind."  
Lucha ambushed a packed house at a 9am screening. His audience Q&A was the essence of this festival's spirit of total interaction with the filmmakers.  
"The experience is like no other," says Rubio (right, with Martiz). "The people in Beaufort are the warmest I have ever met. I will definitely pass the word around, the festival has the potential to be one of the best."
Martiz echoes the thought. "Word of mouth is everything. It keeps us coming back and wanting to bring others along for the ride."
This year's festival proved to be quite a ride for a particular film. For the first time in its 13-year history, one feature pulled off a clean sweep. In The Orchard took Best Feature, Best Director for Chris Knoblock, Best Actor for Jonas Ball and Best Actress for Dana White, who also wrote and produced the film. (All three pictured, top.) White and Knoblock also happen to be married.  
"I feel so lucky to have him as my partner," says White. "We're hard on each other to a fault. It makes for some volatile moments but in the long run it makes the work better and stronger."
Knoblock says the sweep at Beaufort has definitely generated interest in the film. "It also tells us what we already know, that filmmaking is a collaborative process. It's no different from the dynamics of a baseball team, no one part is more important than another. The cast and the crew gave their all." 
Pulling off a six day extravaganza like this also means the Tuckers give it their all. This year the festival added a day of screenings, which essentially expands the fatigue factor for all involved.
"We call it film festival tired," quips Ron. For the entire run of the event he essentially plays the role of MC, introducing every film and conducting every Q&A. Meanwhile, Rebecca marshals an army of about 100 volunteers, who attend to every detail without complaint, often enduring 16-hour days.  
"They keep the train on the tracks," she says. "We relied on them more this year than ever before. We simply couldn't do this without them."
Each year there are more milestones, tweaks and refinements. This year brought an extra day, a major new award, and a broader use of social media. Streaming via Facebook Live connected another 19,000 people online, including some filmmakers who were unable to attend.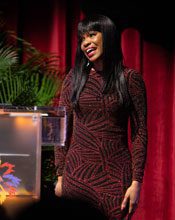 But for those who do come to Beaufort – filmmakers and audience alike – there usually comes a point of connection that transcends the event itself. For this year's  Behind the Scenes honoree it came during a panel discussion. Charleston-based make up artist Joyce Gilliard (left) founded the non-profit iSAFE! TV & Film initiative after being severely injured on the set of the film Midnight Rider in 2014. The accident claimed the life of camera assistant Sarah Jones. Five years to the day after the accident, Gilliard hosted a panel discussion at BIFF. 
"Since the iSAFE! Safety Panel in Beaufort, many filmmakers and producers have asked if they can use the iSAFE! logo and slogan 'Work. Be Safe. Go Home' at the end of the film credits, to signify that no one was hurt or injured while making their movie," she says. "This happened after an audience member made a suggestion. The woman said to the panel that at the end of every movie, there is a logo and saying that no animal was hurt or killed while making this movie. So, why can't it be for people? At that moment, it resonated with everyone: this is what we need to do."
Gilliard didn't just show up to collect a trophy. She was a presence from the start, sitting through nearly every screening. Her family filled two rows of seats for Awards Night. She says the entire experience left a lasting impression. "I felt honored and blessed to be able to share such a magical night and beautiful experience with my family at the Beaufort International Film Festival. Receiving the Behind The Scenes Award was my first major award and it felt as if I was receiving an Oscar. I am still humbled."
For Emmilee Millhouse, the young producer of the Best Documentary Short No Sanctuary, the
festival's climax was a profound emotional journey. The film, directed by Nathan Knox, follows the congregation of Charleston's Mother Emanuel AME Church in the wake of the mass shooting that claimed nine lives. The morning of the awards ceremony, Millhouse drove to Charleston.
"I had made it a priority of mine to pay Pastor Manning and the congregation a visit for Sunday morning mass," she says. "I was welcomed warmly by familiar faces and spoke at length with [Pastor Manning] about how the community has been and what the future holds. He was proud, and wished us luck. I drove back to Beaufort knowing, in some sort of inexplicable way, that I was carrying the spirit of that church along with me." (Note: Emmilee is pictured above, with festival directors Ron and Rebecca Tucker, and writer Mark Shaffer.)
About an hour after accepting the first trophy, she was back on stage to accept the inaugural Susan A.K. Shaffer Humanitarian Award. "It's hard to piece together the words to encompass what it means to accept an award in someone's everlasting memory," says Millhouse. "It is especially difficult when you're honoring the life of someone so near and dear to a community built on life and love. I'm still so overwhelmingly humbled to have received the first even Susan A. K. Shaffer Humanitarian Award, and hope that she would be proud of the message "No Sanctuary" tries to convey. The stories I heard of Susan's life and legacy have touched me in ways I have yet to realize."
Oh yeah, next year. The preparation begins almost as soon as the festival ends. Barely a week later the call for entries is open once again. 
"We got five films the first day," says Ron. "That's completely unheard of."
 "It all starts from the top, and Ron and Rebecca Tucker run a top notch festival," says Chris Knoblock.  "The staff and volunteers are also amazing. Beaufort in general is kind of a magical place. There's a sensuality in the Spanish moss hanging from the trees and in the beautiful old homes. Islands and water are everywhere around you. The people living in and around Beaufort are wonderful; warm, friendly, open, and they really love movies and this festival.  It's just awesome. It was truly one of the best festivals I have ever been to."
Joyce Gilliard shares the love. "BIFF is by far, the best one I have attended. I truly feel this way because of the hospitality, caring and welcoming community who received me, my family, and filmmakers from across the country with love and open arms. It didn't matter what your ethnicity, gender or orientation, the community accepted everyone for who they are." 
"I will return!" says Eddie Rubio. "I want to hang with the friends I met there and [share] the knowledge they have on the cinema."
Dana White says she and Chris are already pondering a project for next year. "We can't wait to get an opportunity to come back here."
For a complete list of the 2019 award winners visit www.beaufortfilmfestival.com.
*The Susan A.K. Shaffer Humanitarian Award is named in honor of the writer's late wife.