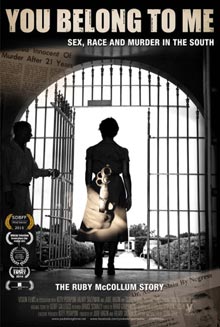 This documentary about sex, race and murder in the South is getting big BIFF buzz.
When three friends set out to find the truth behind a "true crime" tale set in 1950s Jim Crow Florida, they had no idea how difficult their task would prove . . . or how long it would take. Billed as a story of "Sex, Race and Murder in the South," You Belong to Me is finally finished, and it's getting big BIFF buzz.
The focus of this documentary is one Ruby McCollum, the richest African-American woman in Suwannee County, who on Sunday morning, August 3, 1952, walked into the office of Dr. Clifford Leroy Adams – beloved local white physician – and shot him dead.
            Nobody quite knew why at the time, but there was plenty of speculation in the town of Live Oak, FL. Some said they were arguing over an unpaid medical bill. Others said they were lovers quarrelling. Still others believed the sainted Dr. Adams had raped Ruby McCullom. Rumor had it that Ruby's daughter, Loretta, was his child. But again, nobody knew for sure.
            Fast-forward half a century. Ruby's story had been told through books and articles, but Florida film producer Jude Hagin felt there was more to the story than had been reported. Her good friend, the late Dr. James Haskins PhD (writer and professor at the University of Florida) gave her a book about Ruby McCullom, written by William Bradford Huie, and encouraged her to dig more deeply. The book claimed that Ruby and Dr. Adams had been involved in a long term, loving relationship. This didn't ring true for Jude.
            "I was a child in the 1950's and remember the way African Americans (at the time the terminology was 'colored' or 'negro') were treated and how they were reacted to by whites," she says. "Blacks and whites were supposed to be 'separate but equal' but there was no equality, especially in the South.  Ruby lived in a rural town in Florida where racism was rampant. So the story just didn't sound plausible. I just couldn't believe that an African American who was a personally and financially successful mother of three, and who by all accounts was a great mother, would put herself and her family through the heartache that would certainly follow an interracial relationship, especially in a small town.  I knew there had to be more to the story." 
            Determined to get to the truth, Jude enlisted the help of her friends Hilary Saltzman (daughter of Harry Saltzman, who produced nine James Bond films), and Executive Producer Kitty Potapow, and eventually Director John Cork. The project took well over a decade, and they faced many setbacks, personal and professional. In 2000, the good people of Live Oak, FL refused to talk to the filmmakers. Jude and company were warned that their lives might be in danger. (Those warnings proved unfounded.) By 2013, tensions had eased up and people were willing to talk, but still, the going was slow. But Jude and her team weren't about to give up. They were committed to telling Ruby's story.
            "I promised my friend the late James Haskins, (he wrote "The Cotton Club" and many other books on prominent African Americans) that I would do it, and I always keep my word," says Jude. "When I reminded him that I was white, he told me, 'that is precisely why you need to do it, because it will have more power than if African Americans tell the story.' I am not a quitter, so once I started my research, I couldn't let it go. But, I couldn't have done it without my partners, Hilary Saltzman and Kitty Potapow. We were all so committed and worked so well together. We were so pleased that our director John Cork had the same passion about the project that we did, and his experience and knowledge about civil rights made him the perfect choice to write and direct You Belong To Me.  Our next step is the feature film Ruby McCollum which is being directed by James Brolin, with Cary Elwes (as William Bradford Huie) and Angela Bassett (as Zora Neale Hurston)."  
            So, why did Ruby McCollum kill Dr. Clifford Adams on that Sunday morning in 1952? What's the story behind the story? Find out – and meet producer Jude Hagin – when You Belong to Me Screens at BIFF on Friday at 12:10 pm at the USCB Center for the Arts.

For a full schedule of screenings and other BIFF events, visit beaufortfilmfestival.com
Complete festival coverage at lowcountryweekly.com. Follow us on Facebook, Twitter & Instagram.
Mark Shaffer's email is backyardtourist@gmail.com