The Arts Council of Beaufort Country bids farewell to Southern Circuit, hello to other great stuff!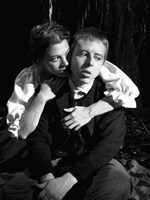 Willow Garden by filmmaker Jim Haverkamp, will be the final Southern Circuit Film in Beaufort.
On Friday, April 25th, for $7 a person, the doors will open at the Arts Council of Beaufort County, at 7pm for a screening of Willow Garden. The film is set in 1740s Northern Ireland, as a young man becomes ensnared in a deadly love triangle and must decide whether to follow his heart or his father's twisted advice. Shot in an expressionistic, film noir style, Willow Garden is backstory of one of America's strangest murder ballads.
Jim Haverkamp is a filmmaker and editor based in Durham, NC. He's also co-produced and co-edited the documentary feature Monster Road, currently screening on the Sundance Channel. His short films have shown at over 50 film festivals worldwide, including Black Maria, Ann Arbor, Chicago Underground, Big Muddy, and MicroCineFest. He is a freelance video editor and teaches at Duke University's Center for Documentary Studies.
Willow Garden began as a stage play by Don Henderson Baker. Fascinated by the song 'Willow Garden'– a murder ballad in which the protagonist stabs, poisons, and drowns his love, with little explanation as to why– Baker set out to provide a backstory for such a gruesome tale. He imagined the story's origins as a complex mix of passion and religious zealotry, embodied by the character John E. McCorkle, a Scottish Protestant lord and set in Northern Ireland among the same "Scotch Irish" community that eventually helped settle the Appalachian area.
For the film version, Baker and Jim Haverkamp decided to shoot the story in a very simplified, stylized setting. Rather than try to recreate exact period details, they instead strip away as many elements of the set as possible. The striking black and white cinematography by Steve Daniels accentuates the theatricality of the world and gives the film the feeling of a dark fable, fueled by the characters' elemental passions.
The screening also includes shorts by Haverkamp, such as Last Pack, as well as an Opening Short: Moth to Light, directed by Elizabeth Strickler. This fictional piece is has a dark and tense atmosphere, wherein the horrific coming of age of Muriel twists. Caught between the domestic world of her mother and a dark and luring force in the garden, she contemplates what to do with the baby her mother dotes on and whose origins are unknown.
Willow Garden is the last Southern Circuit film planned for Beaufort. The Arts Council of Beaufort County has an exciting new film project planned for Fall '08. In the meantime, the following events (and more) are happening in ACBC's performance space. Get the details (and the e-newsletter) at www.beaufortcountyarts.com
Critique Drop In, every 2nd Monday. Share your work with other new & emerging and established artists ~ learn to give and receive positive criticism, 6-8pm, facilitated by Deanna Bowdish.
• Through April 30th, Wednesday Figure Drawing Classes with Daniel Leigey, $60, 6-9pm.
• Every Tuesday, Jennifer Kassing-Bradley offers Open Studio Watercolor Classes 4:30-6:30pm; $10, drop-in. 838-1229.
• Pottery Classes with Trevor Foster: handbuilding or wheel-throwing. $110 plus clay. 803-632-1039.
• April 18, 19, & 20 Working En Plein Aire, with Susan Mayfield. Contact Susan for cost & details, 843-327-4193.
Wednesday, April 16th, 6-8pm, free Get Your Art Out workshop on Editing Techniques, with local authors Sally Drumm and Gail Westerfield.
Wednesday, April 30th, 6-8pm, free Get Your Art Out workshop on Your Marketing Plan, with Will Balk (manager of Bay Street Trading Co. bookstore in Beaufort) & Jim Jordan author of Savannah Gray~ What's happening online, the logistics of book tours & signings, promoting your self-published book.
• May 10: In conjunction with the Beaufort County School District, "Living What We Teach," A show of work by BCSD Visual Arts Teachers
• Through May 15th: meetings with ACBC staff about applications for Community Arts Grants. Arrange with Colleen at 379-ARTS.
• June 18th is ACBC's annual meeting, awards ceremony, and reinstated art auction. Attend this free event to learn about ACBC's leadership in weaving the arts into daily life in Beaufort County, and how ACBC helps promote and nurture artists and arts organizations.