The Psychotronic Film Society of Savannah will screen JULIEN TEMPLE'S acclaimed 2007 feature "JOE STRUMMER: THE FUTURE IS UNWRITTEN," Wednesday, August 6th at 8 p.m. at The Sentient Bean Coffeehouse in Savannah.
What: 2007 "Rock-umentary Film" – Joe Strummer: The Future Is Unwritten
When: 8 pm, Wednesday, August 6
Where: The Sentient Bean Coffeehouse – 13 E. Park Ave. downtown
Cost: FREE, with Voluntary Donations to the Statts / Williams Shooting Victims Recovery Fund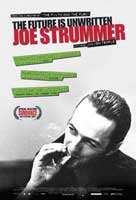 The Psychotronic Film Society of Savannah, in conjunction with local music aficionado Larry Dane-Kellogg and Sony Pictures, are proud to present a free showing of this award-winning (named Best British Documentary of 2007 by the British Independent Film Awards) feature-length look at the life and times of famed rock star Joe Strummer, front man of British punk legends The Clash.
Four years after his sudden and untimely death, Strummer's influence reaches worldwide, perhaps more strongly than ever before. Director Temple, a close friend of Strummers, draws on their shared personal history in the punk movement (Temple directed The Sex Pistols' infamous film THE GREAT ROCK & ROLL SWINDLE), and constructed this "biographical art movie" out of rare performance footage, home movies and animated sequences. It includes on-screen interviews with Bono, John Cusack, Steve Buscemi, Johnny Depp, Flea of the Red Hot Chili Peppers, Joe Ely, Mick Jagger, Jim Jarmusch and others. (Language Advisory).
While there is no admission charge to see the film, voluntary donations will be accepted on behalf of local rock musicians Jason Statts and David J. Williams, both of whom suffered life-threatening injuries as the result of a unprovoked shooting in Ardsley Park this past June 28th. Williams was recently released from Intensive Care, but has a long road to recovery ahead of him, and is uninsured. Statts is currently paralyzed from the waist down and has limited movement in his arms and none in his hands. He remains hospitalized in Atlanta and requires 24-hour care.