The Arts Council of Beaufort County's mission is to promote, so everyone knows about the arts in Beaufort County; to nurture, so that the arts are a part of everyday lives; and to advocate awareness, education, opportunities, and legislation to make the mission happen. All three components— promote, nurture, advocate— are in the panoramic scene of Beaufort County as a vibrant arts community and destination. Here's a look around:
The Arts Council of Beaufort County has been selected as the 2008 recipient of the SC Center for the Book Award for Literary Arts Advocacy. ACBC's literary components include the Get Your Art Out emerging artist initiative, grants for projects in Beaufort County, the Beaufort County Bibliography, ACBC's print publication ArtNews, and ArtWorks, which provides spaces for events and workshops (all at ACBC's new home in Beaufort Town Center, 2127 Boundary Street in Beaufort!)

The South Carolina Center for the Book is an affiliate of the Library of Congress, and a cooperative project of the SC State Library, the University of South Carolina, and the Humanities Council of South Carolina. Additional 2008 winners are Mary Alice Monroe, for writing, and Eileen Bergreen, of Hilton Head, for excellence in teaching. All three honorees will attend an awards ceremony, open to the public, at the Hilton Head Branch of the Beaufort County Public Library on Thursday, August 14th.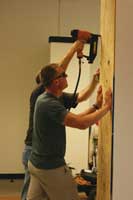 On Monday, August 18th, ACBC is having an arts summit, from 9am to 4pm, at the Coastal Discovery Museum on Hilton Head Island. The purpose is to foster a greater understanding of the workings of organizations in Beaufort County. Each session in the summit will identify actionable items and the creative people who will then make them happen: Ethics & fiscal responsibility will be presented by Kathi Bateson, Arts Center of Coastal Carolina, Denise Spencer, Coastal Community Foundation, and Susan DuPlessis, South Carolina Art Commission; Intellectual property & copyrights, with attorney Helen Roper and Greg Smith, National Press Photography Association; Partnerships & Resources, with a demonstration about the Kennedy Center Partners in Education program, by Jenny Rone, ACBC's development director, and Kristy Callaway, director of the Arts Schools Network; Cultural Tourism and the presentation of the economic impact report, with Liz Mitchell of the Beaufort Regional Chamber of Commerce, and Dr. Isley of Georgia Southern University. To participate in the arts summit, which is free plus a $10 optional lunch, RSVP to Colleen at 379-2787.
Intellectual property and copyrights are urgent matters to all artists. The work you create is yours, right? There are challenges to that assumption which some artists might not be aware of, and since the creative economy needs to keep humming— to the benefit of creators and collectors everywhere— the issue of copyrights has been included in the summit's agenda. Beaufort attorney Helen Roper will provide "a synopsis of the current copyright laws, so we can pit the status quo against the most recent proposal" of rights-altering legislation. Greg Smith of Bluffton will join her to speak about that particular legislation (S 2913 and HR 5889) which is threatening artists' ownership of their own work. It's called the Orphan Works bill. Greg Smith has tracked the issue and has advocated for visual creators – particularly photographers – for much of his 25-year career as a photographer, writer and editor, particularly over the past half-dozen years in his roles as a leader with the National Press Photographers Association and the American Society of Media Photographers. He has followed Orphan Works legislation since the Library of Congress first sought input on this front in 2005.
"While I recognize and sympathize with those who wish to legally use works for which they cannot identify or locate the rights holder, I do not believe the proposed Orphan Works legislation is a reasonable, practical or fair solution. It would allow others to use my property without my permission – possibly devaluing or misrepresenting my work or undermining my usage agreements with others. And it would hamstring my efforts to enforce my property rights when I catch them. Like most artists, I'm eager to share my work. But in order to create it at a professional level, I must have at least the hope of profit. These bills undermine that hope. And by doing so, I believe they endanger, rather than support, our civil society."
Learn more about Beaufort County's creative economy at the summit, beaufortcountyarts.com for more details.