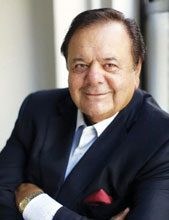 BIFF 2019 Pat Conroy Lifetime Achievement Award
Interview by Mark Shaffer       
Henry Hill (narrating): Paulie may have moved slow, but it was only because Paulie didn't have to move for anybody. – Goodfellas, 1990
When Director Martin Scorsese was looking to cast the role of caporegime Paul "Paulie" Cicero in Goodfellas, he knew he needed an actor who could embody a sense of lethal gravitas. The man had to inspire fear and loyalty just by walking into a room. He found that actor in Paul Sorvino. In GQ's 2010 oral history of the film, Sorvino recalls, "I had a sense of elevation the entire time I was making it. I've never had that before or since, making a movie. Felt I was three feet in the air."
Glancing at Paul Sorvino's long and varied resume, one wonders when or if the man sleeps. Along with film, TV, and stage credits almost too numerous to fathom, he is also a respected sculptor, author and professional opera singer. BIFF's 2019 Pat Conroy Lifetime Achievement honoree is scheduled to discuss his life and career at 3:30pm Friday, February 22ndat the USCB Center for the Arts.
            Mark Shaffer: Congratulations on receiving The Pat Conroy Lifetime Achievement Award. I have a feeling Pat would've loved to hand this one out in person (he also wrote a damn good cookbook). What are your thoughts on the honor?
Paul Sorvino: It's a tremendous honor & I appreciate Mr. Conroy's quote, "Without music, Life is a journey through a desert."
It would have been nice to meet him and compare cookbooks. I wrote a cookbook with my wife Dee Dee called Pinot , Pasta & Parties. It's similar to Pat Conroy's cookbook because we both talk about good food and the good life in our books.
Shaffer: You've been called a renaissance man, enjoying success in opera, film, television, theater – even as sculptor, author and activist. First of all, how do you manage to pull it all off, and which one brings you the most fulfillment?
Sorvino: Singing, acting, sculpting, painting, writing. I love it all and it makes every day fulfilling. I have been in almost 200 movies and I keep a little bit of each role with me. Theater is a true love for me, and when I starred in That Championship Seasonit really put me into the next level of my career. To go from performing opera on Tuesday to starring in a movie on Wednesday, cooking pasta fagioli on Friday – I  am the most happy fella.
Shaffer: We have an unprecedented number of young directors attending the festival this year. As a director yourself, having worked with some of the elite names in the business, what's the best advice you can share with them?
Sorvino: Enjoy it. Be open to letting the actors improvise. In the movie Goodfellas, [Director] Martin Scorsese was so good to let us do our job. So much of the movie is improvised and I think it turned out to be a brilliant call. I like to do the same and let actors shine.
Shaffer: Goodfellas has been elevated to iconic status over the years. The characters are so sharp and nuanced, but it seems to me that your character of Paul Cicero is an exercise in minimalism – almost pure charisma. What was it like creating that character with Scorsese?
Sorvino: Again, Marty was so good to let us be creative and see what could happen, and I think we can all agree it was movie magic. We all liked each other and our chemistry was the perfect formula. It's gratifying to be approached and thanked almost daily for my role in Goodfellas. I have also been asked about cutting the garlic about 3000 times. Yes I did cut the garlic in the movie, those were my hands and I still cut garlic weekly.
*****
Henry Hill: [narrating; Paul is slicing garlic with a razor] In prison, dinner was always a big thing. We had a pasta course and then we had a meat or fish. Paulie did the prep work. He was doing a year for contempt, and he had this wonderful system for doing the garlic. He used a razor, and he used to slice it so thin that it would liquefy in the pan with just a little oil. It was a very good system. –Goodfellas, 1990
*****
            Shaffer: During the mini cast reunion at the 2015 Tribeca Film Festival for the film's 25th anniversary, you said that you almost quit just days before production started. Why and what changed your mind?
Sorvino: Yes, it took some time to find the character. I was putting on my tie one night and I looked at myself in the mirror with that lethal Paulie look by chance and jumped back. I knew at that moment I had embraced my inner mob boss that I didn't know I had in me.
Shaffer: Paul Cicero put you at the top of the casting list for that specific type of character. Has that been a blessing, a curse, or a bit of both?
Sorvino: For a time I didn't like the fact that I would be typecast as a mob boss, but then I embraced it. I have been very fortunate to play so many roles that go from lawyer to mobster, good guy to bad guy, coach, singer, minister, communist, cook, senator. The characters go on and on, so having one genre where I am more well known than the others is just fine.
Shaffer: And finally, with such a rich and varied life spent in the arts, if you had a magic wish to go back and choose one thing and one thing only, what would it be?
Sorvino: I wish I had met my wife earlier – she is so encouraging and makes me realize how lucky I am to be able to do what I love. If you have the right partner in life you are never working.
I truly appreciate the honor from the Beaufort International Film Festival and thanks to Ron and Rebecca Tucker for being the able Producers & Directors of the show.