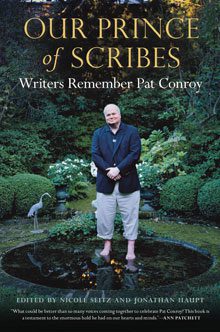 With more than a dozen awards and honors to its credit, the anthology Our Prince of Scribes: Writers Remember Pat Conroy, edited by novelist Nicole Seitz and Conroy Center executive director Jonathan Haupt, has been the subject of more than 50 events across ten states, featuring (thus far) 54 of the volume's 67 contributing writers.
The essays in the collection honor Pat Conroy (1945–2016) as lifelong teacher, mentor, friend, and champion of his fellow writers. In that same spirit of mentorship, the nonprofit Pat Conroy Literary Center will host a one-day writers conference led by several of the book's contributors on Saturday, August 29, accessible online via Zoom and in person at the Morris Center for Lowcountry Heritage in Ridgeland, South Carolina.
            This fourth Our Prince of Scribes Writers Conference will feature contributing writers Stephanie Austin Edwards (novelist, writing teacher, and high school classmate of Conroy's), Jonathan Haupt (editor, book reviewer, and former publisher), Ellen Malphrus (USCB writer in residence and professor of English), and Sean A. Scapellato (novelist and writing teacher)—along with special guests Brooke McKinney (poet, memoirist, and Conroy Center communications and events coordinator) and Holland Perryman (Conroy Center student intern)—for a lively series of four writing workshops and a closing panel discussion.
            Socially distanced in-person seating at the Morris Center (10782 Jacob Smart Blvd S., Ridgeland) is limited to 20 participants. Online participation through Zoom is also available for a dozen additional participants. All-day registration includes all four workshops and the closing panel discussion (with lunch on your own): $85.00 for SC Writers Association members, $100.00 for non-members. 
            Learn more and register at https://patconroyliterarycenter.eventbrite.com. 
Our Prince of Scribes Writers Conference Schedule of Events
10:00 to 11:00 a.m.: "Live at Home like a Traveler"; or, the Socially Distant Nature Writer | Ellen Malphrus
11:15 a.m. to 12:15 p.m.: The Dialogue Crash Course: How to Talk the Talk | Sean A. Scapellato and Holland Perryman
12:30 to 1:45 p.m.: Lunch Break (on your own)
2:00 to 3:00 p.m. Book Marketing Essentials | Stephanie Austin Edwards
3:15 to 4:15 p.m.: The Burning Man vs. the Tortoises: Turning Memories into Stories | Jonathan Haupt and Brooke McKinney
4:30 to 5:30 p.m.:  Our Prince of Scribes: Writers Remember Pat Conroy panel discussion
Books by the faculty members will be available for sale and signing at the Morris Center. Sales of Our Prince of Scribes help support the educational mission of the nonprofit Pat Conroy Literary Center.
Praise for Our Prince of Scribes: Writers Remember Pat Conroy
 "A moving tribute to the legacy of one of the South's brightest lights."—Garden & Gun's Talk of the South
"A moving, entertaining read as genuine as the icon himself. "—Charleston Magazine
"In these essays, you'll meet a man who was troubled, tormented, angry, scathing, outrageous, hilarious, tender, noble, brave, and generous beyond measure. But most of all, you'll meet a man who damn-well knew how to love. And thanks to the devoted efforts of co-editors Jonathan Haupt and Nicole Seitz, and the work of 67 very fine writers, his legion of fans will come to love Pat Conroy even more than they already do." —Lowcountry Weekly
About the Conroy Center
Winner of the 2019 Civitas Award for Tourism Leadership, the nonprofit Pat Conroy Literary Center is South Carolina's first affiliate of the American Writers Museum, second American Library Association Literary Landmark, and TripAdvisor's top-ranked attraction in Beaufort. The Conroy Center preserves and continues the literary legacy of Pat Conroy (1945–2016) as a teacher, mentor, advocate, and friend to readers and writers alike. The Conroy Center is located at 905 Port Republic Street in downtown Beaufort, open to the public from noon to 4:00 p.m. Thursdays through Sundays. To learn more, please visit www.patconroyliterarycenter.org.