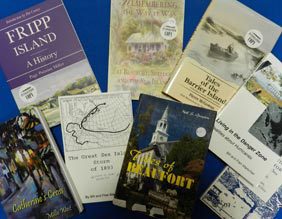 The annual Beaufort Friends of the Library Fall book sale descends on Henry C. Chambers Waterfront Park in Beaufort starting Friday, Sept. 26.
The sale continues into Saturday and concludes Sunday afternoon.  Always one of the biggest sales of its type held in Beaufort County, it will be just as awesome this year with thousands of gently used books, CDs and DVDs available. Books will again be priced at $2 for most hardbacks, $1.50 for trade paperbacks and 50 cents for paperbacks. Children's books will be individually priced with many just 10 cents. On Sunday, all remaining books will be half-price!

Members of the Friends of the Library (FOL): Beaufort, Lobeco & St. Helena Branches get the 'pick of the litter' and a jump on the sale during the Member's Only Preview held 10 am – noon on Friday, Sept. 26.  FOL members can identify themselves by bringing their printed Fall FOL newsletter OR having their name checked against the Members roster.   If your membership has expired, you can renew at the book sale or sign up as a new member.Bargains & Treasures Galore

The popular Silent Auction begins Friday morning and concludes at 4 pm on Saturday and this year includes numerous rare and collectible volumes. "We are thrilled to offer many excellent and unique books in the auction. Included are books from the collection of local author Lois Battle, with several of her own books, and a number of books inscribed to her by other authors," said event co-chair Kinsey Baker.

Kinsey's co-chair, Neil Ames, added "We also have received a generous donation from Historian Richard Raeon, including over 650 hardbacks, and 225 trade paperbacks on such diverse subjects as the Civil War, the French and Indian War, the American Revolution, Beaufort and regional SC state history, American, Russian, and Middle Eastern world history and politics, plus many other historical subjects. We have some honest-to-goodness treasures for sale this year!"

Joe Fox, owner of Beaufort restaurant Carolina Dog & Deli, has also donated many wonderful cookbooks.

All books, CDs and DVDs are donated by the community throughout the year and are organized by volunteers into categories for easier shopping. As in previous years the sale includes books of every genre, for all ages and covering every conceivable subject area. This includes fiction, biography, nature, how-to, art, travel, local interest, military, history, a large children's section, and autographed selections. There will also be an expanded section of  specially priced rare and collectible books.
Funding Squeeze

The fall book sale is the main fundraiser for the FOL, who in turn, are the largest volunteer supporters of the three public library branches located in northern Beaufort County (downtown Beaufort, Lobeco and St. Helena Island). "Overall funding and specifically materials funding has been drastically slashed from the county support of the library budget over the past several years, so assistance from the Friends is vital to the three branches," says FOL President Marilyn Harcharik. "We are so very appreciative of all our FOL volunteers and the community support we receive. Our library branches offer many services and programs to the public – from the all-important summer reading programs to 'homework help', tax prep assistance, special cultural presentations and more. Our libraries are well used and they are being stretched thin, so any and all financial support we can muster will be well used and much appreciated. "Show your Support: Buy a Book, Join the Friends,
Volunteer

The Fall Book Sale is a popular event that has been a mainstay on the Beaufort community calendar for more than 30 years.  Prior to the book sale, and at any time, book donations continue to be encouraged and accepted at all three library branches. "And at the end of the book sale, all left over books are donated to other local charities so there's nothing leftover from a previous sale. Everything that goes on the tables is new for that sale," added Ames.
The FOL Board would like to acknowledge and thank all their dedicated  'Friends' volunteers, as well as several local organizations and businesses without whose support this event would not happen: The City of Beaufort  (co-sponsor), Amazing Event Rentals, Boy Scout Troop 1, AMIkids Beaufort, everyone who posts the Book Sale flier in their window and of course, those who attend the sale and "buy big".   Show our library branches some love Beaufort!
BOOK SALE DETAILS:

FOL Member Preview: Friday, Sept. 26, 10 am – Noon.
Open to public: Friday, Sept 26, Noon – 6 pm; Saturday, Sept. 27, 10 am – 6 pm; Sunday, Sept. 28, Noon- 4 pm.
Silent Auction: Starts Friday, Sept. 26, 10 am and ends at 4 pm on Saturday, Sept. 27.
On Sunday, Sept. 28 all books will be half price!
About The Friends of the Beaufort Library:
The Friends of the Beaufort Library: Beaufort, Lobeco and St. Helena Branches (FOL) is a non-profit 501(c) (3) organization founded in 1979.  It is a volunteer organization providing financial support to northern Beaufort County libraries with services to the community through additional funding of programs and projects that enhance learning, leisure and life. Events include two annual book sales and the popular and FREE Books Sandwiched In series. To become a member of FOL contact Alyssa Martin at 443-223-8108 or to volunteer contact Patricia Ethier at 843-524-8442.